It was an odd sight, for sure. Goofily sporting a virtual reality headset, legendary French filmmaker Luc Besson cooed over a bit of silicon circuitry as he gave reporters and analysts a digital tour of the latest Livebox, a home gateway device that is critical to Orange's broadband and TV strategy.
The glitziness of the show, which took place this week in Paris near the world-famous Louvre art museum, was meant to signal the importance of the Livebox to Orange (NYSE: FTE)'s fortunes in France, where the operator is locked in a fierce battle for broadband and TV customers with three big rivals -- Numericable-SFR , Iliad (Euronext: ILD) and Bouygues Telecom , a player it ultimately hopes to acquire. (See Orange Launches Livebox at Louvre With Luc and Orange CEO Sees 50:50 Chance of Bouygues Deal.)
The Livebox has yet to hit the market, but when it does finally arrive its capabilities seem likely to trouble its competitors, which have already lagged Orange on signing up broadband customers. By taking advantage of the latest WiFi developments, the new Livebox promises to eliminate bandwidth bottlenecks in the home. It can also link to other devices outside the home over a 4G link and store more than 200 hours of high-definition (HD) video content. Perhaps more importantly, it will support a range of new Ultra HD video content that Orange plans to screen.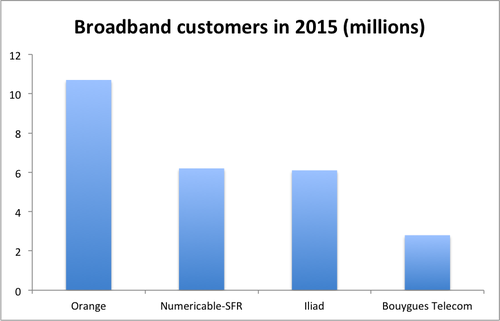 It could even lead to some cost savings for Orange. One design innovation has allowed the operator to install an optical network terminal inside the Livebox, meaning it does not have to fit one separately on a customer's premises.
That and other components of the device could find their way into products and services launched in other markets, according to Orange executives speaking at the Paris event, and appear to be the fruit of new and more open working practices at the French incumbent. Organizationally, Orange is trying to break down the silos dividing particular functions from one another, assembling teams that include experts from various fields.
---
Want to know more about pay-TV subscriber trends? Check out our dedicated video services content channel here on Light Reading.
---
The approach is one that is influencing developments in areas such as SDN and NFV, too. Just last week, Stephane Litkowski, a network architect from Orange Business Services (the operator's enterprise unit), told attendees at the MPLS/SDN/NFV World Congress in Paris that trials of SDN and NFV services with small and mid-sized enterprise (SME) customers had been guided heavily by such inter-departmental collaboration. Orange is now plotting a much more widespread rollout of those services for SMEs and even multinational corporations. (See Orange Plots Wider Rollout of NFV for SMEs.)
"This box literally tears down walls," said Stéphane Richard, Orange's CEO, in describing the methodology that Orange pursued when designing the new Livebox. Commonplace in the software industry, such "DevOps" practices are starting to permeate the telecom sector as new digital challenges force operators to rethink their entire way of working. Like its traditional rivals, Orange has yet to convince onlookers it can play on the same turf as its Internet challengers, but it seems to be moving in the right direction.
— Iain Morris,

, News Editor, Light Reading, Editor-in-Chief, Telco Transformation