Company culture needs to be top priority for service providers' digital migrations, according to our first Telco Transformation poll.
When respondents were asked what telcos need to transform first, company culture garnered 42.37% of the votes in the poll while network infrastructure was second with 28.81%.
Company culture probably wasn't a big area of discussion ten years ago. Employees were hired to work in specific service areas that were, in most cases, provisioned and maintained separately from other services on the network.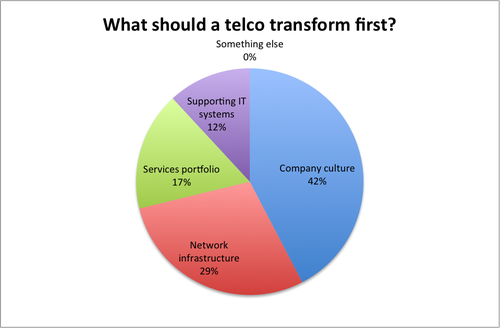 With telcos focused on becoming more agile and flexible, company culture has taken on added importance. Because of new enabling technologies, such as SDN/NFV, DevOps and big data, the previous mantra of "that's how we've always done it" is out the window.
One reason for having a unified company culture in place is that service silos are crumbling, which means networking teams need to work with IT teams, or data engineers need to learn how to share network resources with voice engineers.
Without a company vision in place, it will be a rocky road on the way to creating a telco's network roadmap, which most service providers and their partners get. In the high stakes game of building next-gen networks, finding the right employees and having in-house mentoring programs take on added importance. (See Ericsson HR Dumps Good, Bad Hiring Buckets .)
It will be interesting to see how the respective company cultures of Dell Technologies (Nasdaq: DELL) and EMC Corp. (NYSE: EMC)/VMware Inc. (NYSE: VMW), along with EMC's federation, mesh once that acquisition is complete. (See Dell Buys EMC for $67B in Biggest Tech Deal Ever.) And how will industry heavyweights Cisco Systems Inc. (Nasdaq: CSCO) and Ericsson AB (Nasdaq: ERIC) blend their cultures in their new partnership? (See Cisco + Ericsson: From Soup to Nuts.) (Time Warner and AOL's oil and water merger from 2000 is still the poster child for failing to merge company cultures.)
Following network infrastructure, services portfolio was third in the poll with 16.95% and supporting IT systems was fourth at 11.86%. There were no votes in the "something else" category. Personally, I would have guessed that supporting IT systems would have placed higher up on the poll due its importance related to customer satisfaction.
— Mike Robuck, editor, Telco Transformation