NFV lapped the field in our latest poll which asked, "Which of the following technologies will be most important for service providers' digital transformation over the next five years?"
NFV pulled in 41% of the votes. Oddly enough, SDN and OSS/BSS finished in a dead heat at 16% to tie for second while big data crossed the finish line in third with close to 14% of the votes. DevOps trailed in last at 10%. The "other" category in the poll received 3% of the votes.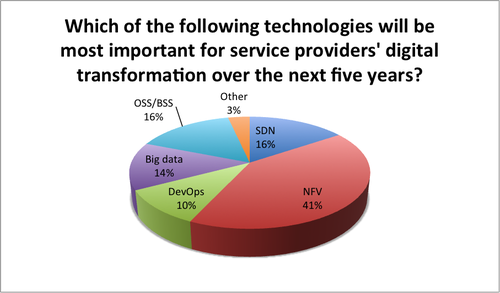 The touted benefits of NFV, which include increased agility and flexibility, faster time to market and reductions in operational and capital costs, are obvious to service providers.
There's industry-wide agreement that NFV will be the biggest driver in the next-generation networks going forward, but with the various vendor approaches and standards in play, creating and sticking to a road map will be key. (See EXCLUSIVE! NFV Interop Evaluation Results.)
Among Tier 1 service providers, AT&T Inc. (NYSE: T) is well on its way with its stated goal of virtualization in 75% of its network by 2020. Over in Europe, Telefónica has started its network transformation with the Unica project.
As for SDN, it often works in tandem with NFV, but the industry does seem to be sorting itself out for a second phase of SDN that goes beyond the first implementations in data centers.
As service providers undergo their digital migrations, they'll need to continually ensure that their OSS/BSS systems work with both legacy and hybrid networks and services.
Big data and DevOps will also have prominent roles going forward as service providers move down their respective network transformation pathways.
—Mike Robuck, editor, Telco Transformation