As service providers continue their march towards virtualized networks and functions, there's increased complexity within their OSS/BSS systems.
While the benefits of NFV are clear, changing mission-critical parts of a service provider's infrastructure needs to be handled with care. In some instances, service provides have started to deploy NFV without having an OSS/BSS strategy in place. (See Telecoms Pushing NFV, Even Lacking OSS.)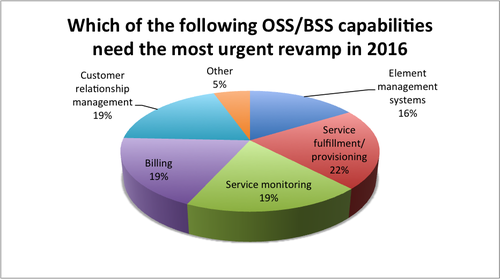 In the most recent
Telco Transformation
poll, we asked which OSS/BSS capability was in need of an urgent revamp this year, and the winner was "service fulfillment/provisioning" with 22% of the vote.
While we had a clear winner in the poll, second place was clear as mud. "Customer relationship management," "billing," and "service monitoring" finished in a dead heat for second place with scores of 19%. Fourth place went to "element management systems" with 16% of the votes. The "other" category garnered 5%, but respondents didn't say in the comment section what they had in mind.
There are various NFV orchestration options currently in play and the market will continue to evolve. Service providers need to plan out their OSS/BSS strategies across their existing systems and into new offerings from traditional players as well as from smaller vendors that are new to the marketplace.
Making the right OSS/BSS choices in 2016 will save a lot of headaches going forward while allowing service providers to reap the full benefits of NFV.
— Mike Robuck, editor, Telco Transformation