As service providers undergo their digital transformations, their billing and charging systems need to evolve as well.
For the second year, research firm IHS took a look at the convergent charging market in a report. The top-three convergent charging software vendors in the latest report were Huawei Technologies Co. Ltd. , Amdocs Ltd. (NYSE: DOX) and Ericsson AB (Nasdaq: ERIC).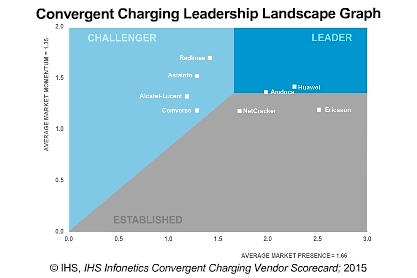 Shira Levine, research director for service enablement and subscriber intelligence at IHS, said this year's report didn't rank the vendors in order, but Huawei and Amdocs were listed in the "leader" quadrant of the scorecard while Ericsson and
Netcracker Technology Corp.
were in the "established" section. Among the top three, Levine said she didn't see any significant changes from last year to this year.
"Huawei, Amdocs and Ericsson were on top of the list last year," she said. "Those three are dominating the market right now."
Rounding out the companies in the "challenger" section were Alcatel-Lucent (NYSE: ALU), Redknee Inc. (Toronto TSX: RKN), AsiaInfo Inc. (Nasdaq: ASIA) and Comverse.
In order to help operators make the transition from being connectivity suppliers to providers of digital services, convergent charging software vendors are creating pre-paid and post-paid hybrid models, according to Levine. A hybrid model can provide a single view of the customer and help break down service silos.
Due to its network expertise, Levine said Huawei has a strong customer base in pre-paid charging, but has been aggressively expanding into the converged charging market. Huawei's R&D and resources have helped the company's convergent charging efforts.
Amdocs relied on its experience in the post-paid billing market to become another one of the leaders in convergent charging. Amdocs completed its $272 million deal to buy Comverse's BSS assets in July, which served to further cement its position on the scorecard. (See Amdocs Splashes $272M on Comverse's BSS.)
Ericsson's entrenched position in the communications market helped it gain significant share in the convergent charging arena, according to the report.
"The convergent charging market is more focused and distinct from the overall billing market," Levine said. "We see this primarily as a mobile operator play with a little activity on pricing innovation on the cable side. Then we'll see it move into Wi-Fi hotspots for more flexibility around billing. But for the most part the cool stuff is happening on the mobile side now."
The scorecard used market share, growth data, customer feedback and service provider surveys, among other criteria, to generate the results.
— Mike Robuck, editor, Telco Transformation