According to the latest Telco Transformation poll, cloud-based services will be the top money-maker for service providers over the next five years.
The poll question was: In five years' time, which service will generate the most revenue for service providers?
Cloud services -- specifically infrastructure-as-a-service (IaaS), platform-as-a-service (PaaS) and software-as-a-service (Saas) -- raked in 37.25% of the votes on our poll while gigabit broadband placed second with 29.41%.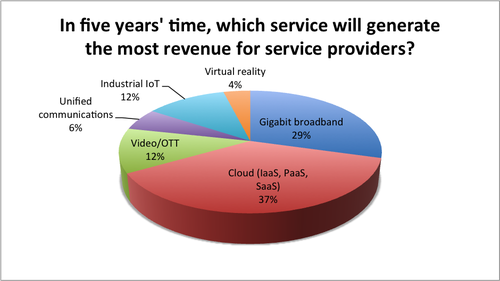 Cloud services already seem ubiquitous, but the architectures and markets are continually evolving. Thanks, in part, to software, cloud-based services have moved beyond data centers and into everyday life.
According to a study from Verizon Enterprise Solutions , around half of the companies it surveyed said that they will be using a cloud for at least 75% of their workloads by 2018. In the future, the study says that private cloud services will become less exclusive, and that most companies will use a hybrid public/private model. (See Irony? Verizon Report Shows Cloud Biz Booming.)
So whether its mobile apps from a cloud, or accessing work documents from home, increased use of cloud services and products are being enabled by better technologies, and driven by an almost insatiable demand from users.
Industrial IoT and video/OTT tied for third place in the poll at 11.76%. Unified communications (5.88%) and virtual reality (3.92%) finished in fourth and fifth, respectively.
— Mike Robuck, editor, Telco Transformation