With trillions of sensors waiting collectively in the wings, service providers are faced with some key considerations when it comes to mapping out their Internet of Things (IoT) strategies.
According to a recent Telco Transformation poll, "Network transformation," with 32.36% of the votes, should be on top of service providers' to-do list. The poll question was: "What should be the biggest priority for service providers developing an Internet of Things strategy?"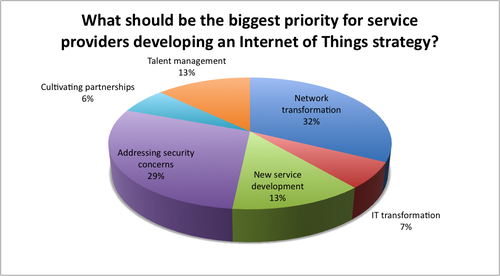 According to a report by
Forrester Research Inc.
, 23% of enterprises currently use IoT while another 29% plan to within 12 months. For more proof that networks need to be IoT-ready,
IDC
's report said that IoT's CAGR is projected to increase from $698.6 billion last year to nearly $1.3 trillion in 2019.
Research by Gartner Inc. forecast that 6.4 billion connected "things" will be in use worldwide this year, up 30% from 2015 and will reach 20.8 billion by 2020. In 2016, 5.5 million new "things" are getting connected every day.
Finishing in second place was "addressing network security concerns" at 29.03%, which wasn't a surprise given the number of security-related comments on Telco Transformation. (See IoT: Webcam Hack Creates Network Backdoor.)
IDC predicts that by 2018, 66% of networks will have suffered an IOT-related security breach. Tackling IoT compromises would increase security costs from less than 1% of the annual budget last year to 20% by 2020, according to Gartner.
"New service development" and "talent management" tied for third-place in the poll at 12.90% while "IT transformation" and "Cultivating partnerships" were in a dead heat at the bottom with 6.45%.
— Mike Robuck, editor, Telco Transformation