In our latest Telco Transformation flash poll, we asked if telcos were ready for the video explosion that could cause them a world of hurt?
The short answer: no.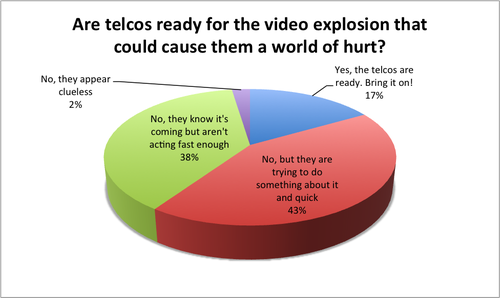 "No, but they are trying to do something about it and quick," earned the most votes in the poll at 43% while "No, they know it's coming but aren't acting fast enough" placed second with 38%.
The contrarian opinions were the bottom dwellers in the poll. "Yes, the telcos are ready, bring it on" garnered 17% of the votes in the poll while "No, they appear clueless" registered 2%.
Lest you think there's not going to be an explosion of video across service providers' networks, AT&T Inc. (NYSE: T) provided some eye-opening metrics when it released its 5G roadmap on Friday. (See AT&T Unveils 5G Ambitions.)
Thanks largely to video, data traffic on AT&T's wireless network grew more than 150,000% from 2007 through 2015. Last year, more than 60% of the data traffic on AT&T's total network was video.
Video is evolving on several fronts. There's the over-to-top (OTT) video migration that has been underway for quite some time now as IPTV-based video is delivered to a host of devices. Video is also an element of unified communications offerings and is become more prevalent across new verticals such as security, hospitality, education, healthcare and finance.
— Mike Robuck, editor, Telco Transformation