Internet of Things (IoT) was the clear winner in a recent Telco Transformation poll that asked: "Which application is most in need of smart mobile cloud support?"
The smart mobile cloud is well-suited for the millions of smart IoT services that will need to be connected and managed, according to the poll. IoT garnered 50% of the votes in the poll while "video" was a distant second at 29%. "Enterprise mobile networks" finished in third place at 14% while "MVNOs" was last with 7%.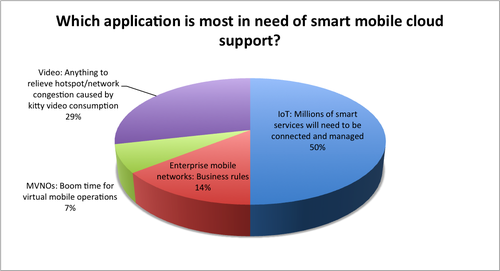 Billions of devices need solid network connectivity in order to fulfill the promise of IoT. There are various technologies that are driving IoT-related connectivity, but wireless LAN (WLAN) will be the primary means of connecting those devices to networks, according to a report by Dell'Oro Group.
Dell'Oro has estimated that there will be an installed base of nearly 1 billion WLAN network devices by 2020, although not all of them will be publically available. On the cloud side of the equation, Dell'Oro has projected that cloud servers will comprise 50% of total server shipments by next year.
In a previous Telco Transformation poll, "Network transformation" was cited as the top IoT priority for service providers. (See Network Transformation Tops IoT Poll .)
— Mike Robuck, editor, Telco Transformation