The winning entry in the March Madness Telco Transformation photo caption contest was definitely old school.
Harkening back to 1984's This is Spinal Tap, the winning post by "wsarver" was: "Go to 11, much better than ten! While most devices go to ten, this button pushes you to 11, which is way better than ten!"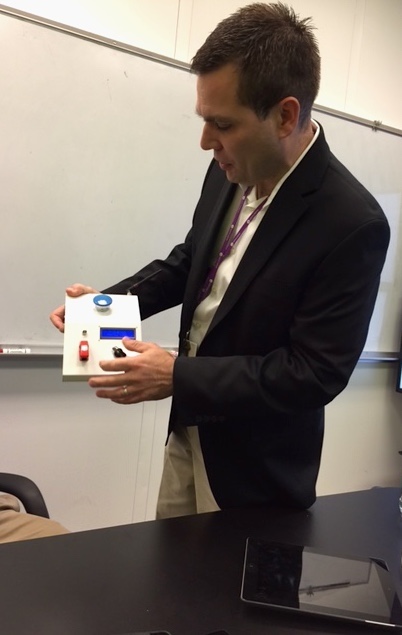 For those of you who weren't around in the 80s, the winning post refers to Spinal Tap guitarist Nigel Tufnel (played by Christopher Guest) showing his amplifier to filmmaker Marty DiBergi (which was played by the actual filmmaker of Spinal Tap, Rob Reiner). Unlike run-of-the-mill amps that go to "10" on the dials, Tufnel's volume dial went all the way to "11." (It's probably not that funny when it's explained, but if you haven't seen the movie it was a groundbreaker for mockumentaries.)
Other notable entries included:
"When the Internet of Things arrives, this will be THE THING to have." – mhhf1ve
"Super Bass-o-Matic '76! It's clean, simple and after five or ten fish, it gets to be quite a rush! Super Bass-o-Matic '76 -- you'll never have to scale, cut or gut again!" – vnewman
"Now, be serious for once and listen up Bond!" – SeniorSy13581
"And we think that a personal device on which it is impossible to view cats, babies or famous or naked people will result in an explosive growth in productivity, worldwide." – JohnBarnes
"iPhone7 Venti." – Richard-S
"Welcome FBI, if you want to give us a hand with this." – ms.akkineni
"And for the fifth year in a row, Doug was disappointed to find out Jim from R&D was his Secret Santa again." – faryl
"Uh, time machines? After the election, we can just press the red button for a do-over if needed." – Writerfo10281
Thanks for all of the entries. We'll have another contest this month.
— Mike Robuck, editor, Telco Transformation