With an addressable US market that includes more than 150 million cars that aren't connected, over 300 million utility meters and 45 million people sharing goods and services, the Internet of Things is a prime-time player, according to a report that was commissioned by Verizon.
According to research in the report, Gartner Group estimated that the Internet of Things (IoT) would support total services spending of $235 billion in 2016 across various business categories. In 2016, enterprise IoT startups will generate two to three times more funding than their consumer counterparts, which was opposite of 2014 when consumer IoT startups raised 15% more venture capital funding.
While the funding is on the enterprise side, Verizon's Tom Villa, director of healthcare IOT products and services, said that almost every enterprise IoT product could also apply to consumers.
At the end of last month, Verizon launched its "Intelligent Track and Trace" service, which was a direct response to the Drug Supply Chain Act of 2013. With the use of IoT sensors in drug packaging, Track and Trace monitors prescription drug shipments across the distribution and supply chains. The same monitoring capability could be used by consumers to keep track of their own prescriptions, Villa said.
The Drug Supply Chain Act was designed to help pharmaceutical companies thwart the $75 billion a year in losses associated with stolen or counterfeit drugs. It's also a prime example of regulations driving IoT use cases. (See IoT: It's All About Use Cases, Verizon's Bartolomeo Says.)
In the report, Verizon Communications Inc. (NYSE: VZ) identified five macro trends for IoT, including consumers expecting a much higher level of automation in their daily lives via a single IoT interface, and data monetization as a core competency. (See Verizon Says IoT Becoming Mainstream.)
Verizon has started to reap the financial rewards of its Internet of Things products and services. In its most recent earnings report, Verizon said revenues were about $690 million combined for IoT and telematics at the end of last year.
Verizon is focused on six key IoT verticals: healthcare, energy, home monitoring, transportation, smart cities and agriculture. Villa says Verizon works with each company in those verticals to determine how IoT applies to their businesses. Verizon uses its "Thing Space" IoT platform, which was launched late last year with new features added last month, and network to provision IoT applications and services. (See Bartolomeo Provides Insight on Verizon's IoT Platform.)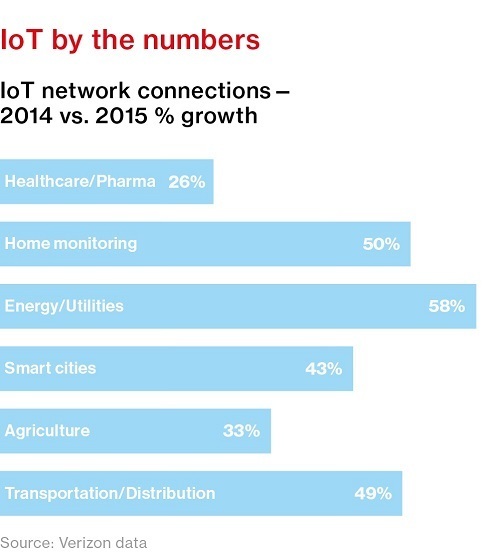 "If you look at our industry, it's really evolving and it has been for 30 years," Villa said. "We all came from wireline and we evolved to wireless and then we brought fiber in. I can tell you it really feels like the next exciting new chapter of the industry is about to kick off here. IoT is that next chapter.
"It's just like it was when we all decided to go wireless and got on board with that. IoT has the same feel to it. It feels exciting and it feels like we have the assets to really bring this to bear and really help a lot of people and companies do something special."
— Mike Robuck, Editor, Telco Transformation