While web and cloud-based applications and services have created a seismic shift in how enterprises operate, security concerns loom large.
Security was top of mind in last week's Telco Transformation poll that asked: "What is the game-changing digital service or technology that communications service providers (CSPs) can offer to their enterprise customers?" The option with the most votes, at 31%, was "security."
CSPs are well aware that they need to alleviate security concerns for their enterprise customers. According to a report by Allied Market Research, the global managed security services market is projected to reach $29.9 billion by 2020, with a compound annual growth rate of 16% over the next five years.
In a recent report, ABI Research projected that the software security testing market would reach $7 billion by 2020, which it said reflected that secure software development was a challenge for most businesses today.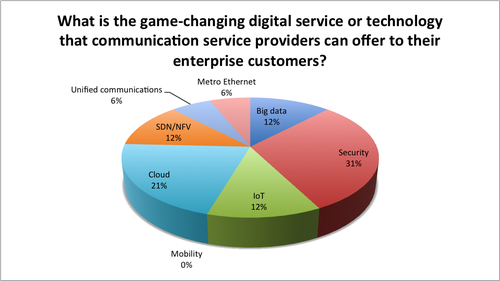 "Cloud" service came in second in the poll with 21% of the votes while SDN/NFV, big data and IoT tied for third at 12% each. "Metro Ethernet" and "unified communications" each scored 6% of the votes, while "mobility" didn't register a single vote.
— Mike Robuck, Editor, Telco Transformation