Voters in last week's Telco Transformation poll were largely optimistic that billing systems would be able to keep pace with the advent of digital services.
The poll question asked the following: "As the world moves towards digital services and real-time charging, are billing systems keeping pace?" In the most lopsided poll results to date, 52% voted in favor of "A refresh is needed but most of what's needed already exists."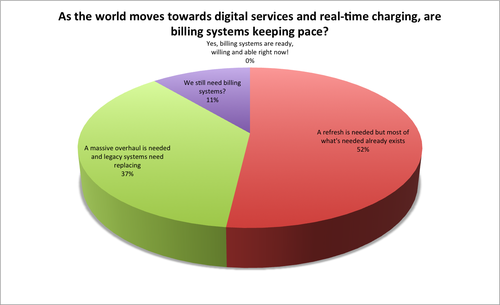 On the glass is half empty side, 34% voted in favor of "A massive overhaul is needed and legacy systems need replacing," which was good enough for second place. Placing third was "We still need billing systems?" with 11% of the votes while "Yes, billing systems are ready, willing and able right now!" placed last with zero votes.
While the billing systems have traditionally been broken up into operations support systems (OSS) and business support systems (BSS), the lines between the two have been blurring for some time, which has led to the emergence of convergent billing systems.
With new digital services, along with the need for better customer service platforms, convergent billing systems stand to garner sizeable investments from service providers, but blending the new platforms with existing customer care platforms represents a challenge.
Reflecting the convergent billing systems opportunity, a report by Transparency Market Research said that OSS/BSS will have a 13% CAGR from 2014 to 2020 as it grows from its 2013 valuation of $22 billion in 2013. The global OSS/BSS market will be worth close to $50 billion globally by 2020, according to the report.
— Mike Robuck, editor, Telco Transformation