Mobile threats are the top security concern when it comes to the weakest security link for enterprises, according to a recent Telco Transformation poll.
"Mobile threats" had the most votes in the poll to finish at 26% while "cloud-based threats" and "client-based threats" tied for second at 19%.
"Data-loss prevention" was third at 15%, "wireless network-based threats" fourth with 12% and "server-based threats" finished in last place with 9%.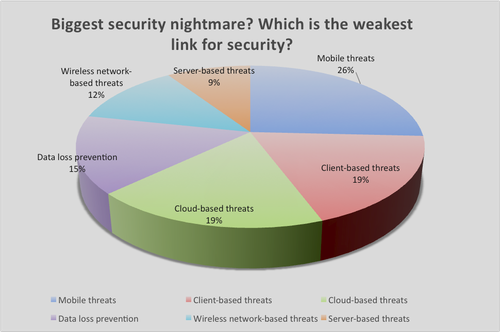 According to a report in January by
451 Research
, 44% of the enterprise security managers surveyed were expecting to increase their security budgets over the ensuing three months while 4% said they would decrease spending.
A lack of trained security personnel in the US was also an issue, according to the report. Security managers reported significant obstacles in getting the full potential out of their security information and event management platform solutions due to a lack of staff expertise (44%) and inadequate staffing (28%).
— Mike Robuck, Editor, Telco Transformation