Driven by subscription video on demand (SVOD) consumption, over-the-top (OTT) TV and video revenues in 18 Latin American companies will reach $3.59 billion in 2021, which would more than triple the $1.15 billion that was booked last year, new research suggests.
In a new report by Digital TV Research , Simon Murray, principal analyst, said 2015 and 2016 were pivotal years for Latin American OTT TV and video due to an influx of new players and services.
"Launched across the region in September 2011, Netflix is already established," Murray said. "However, substantial SVOD competition is now a reality from the likes of America Movil's Claro Video, Telefonica's Movistar Play, HBO Go, Televisa's Blim and Millicom's Tigo Play."
SVOD is the region's largest OTT revenue contributor with 58% of the overall 2021 total. Digital TV Research estimated that there will be 31.87 million SVOD subscribers by 2021 compared to 11.22 million at the end of 2015.
The research firm also said that advertising on OTT sites will rake in $727 million by 2021, compared to $266 million in 2015.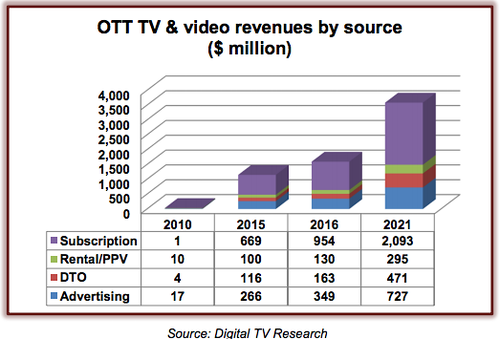 — Mike Robuck, Editor, Telco Transformation