According to OTT and cord-cutting research, 23% of millennial heads of households in the US subscribed to only broadband-based OTT services, which was higher than the national average of 15%.
According to Parks Associates , 61% of those millianials signed up for both OTT and pay-TV services, which also topped the national average of 52%.
"Younger consumers are willing to subscribe to pay-TV service, provided the offerings align with their expectations," said Ruby-Ren Bond, research analyst at Parks Associates. "In particular, millennials show higher-than-average affinity for popular culture and premium movie channels as well as programming for younger children."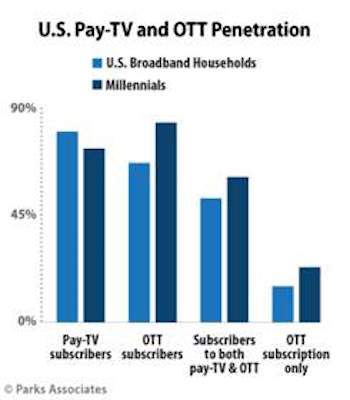 Overall, 64% of broadband households subscribed to an OTT video service, which was up from 59% in 2015. Close to 60% of the OTT video services in the North American market were subscription-based.
Average monthly spending on Internet-based subscription video-on-demand (SVOD) services among US broadband households increased from $3.71 per month in 2012 to $6.19 per month last year, according to the report.
On the churn side, about 20% of US broadband households cancelled at least one OTT video service in 2015. (See The OTT Maelstrom.)
— Mike Robuck, Editor, Telco Transformation