July's Telco Transformation caption contest seemingly takes a neighborhood watch program to new heights via home monitoring, or is something else afoot?
We're looking for your best captions for this cartoon that John Klossner drew for Telco Transformation. Once again, first place nabs a $100 Amazon Gift Card, second gets a $75 gift card and third $50.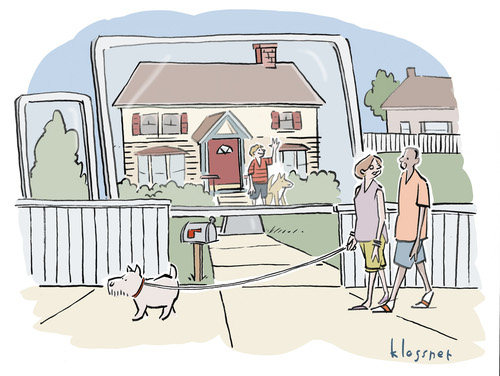 I recently asked the Telco Transformation moderators for ideas on how we might shake up this month's caption contest, and I received several good ideas. For this month, I'll come up with a list of nominees and then we'll have a run-off in the comments section here. I'm hoping to get John Klossner's input as well, but in the end your votes will decide the top three winners.
Once we come up with the nominees, I'll post them here and let you pick the three winners.
Registered users can post as many times as they want in the contest. Contest ends July 30 at 12:00 a.m. EDT. Due to the voting process, the winners will be announced in early August.
*Terms and conditions apply -- (See PROMOTIONAL TERMS FOR July TELCO TRANSFORMATION CAPTION CONTEST.)
— Mike Robuck, Editor, Telco Transformation