While an overwhelming number of senior executives (86%) in various business sectors agreed that digital transformations would be key going forward, 40% don't have a strategy in place to do them.
In the survey by IFS AB , 76% of the respondents said they needed more information about digital transformations.
The survey also found that there's a turf war developing between chief financial officers (CFOs), chief executive officers (CEOs), chief technical officers (CTOs), chief information officers (CIOs) and chief marketing officers (CMOs) over who was responsible internally for digital transformations.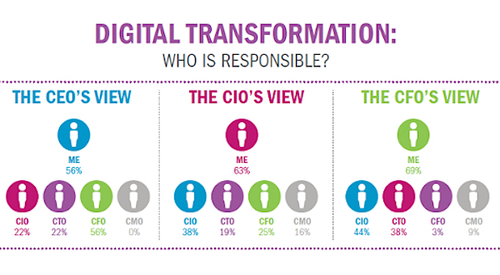 Not surprisingly, 56% of the CEOs in the survey said they were responsible while the corresponding numbers for CFOs and CIOs were 69% and 63% respectively.
Overall, when asked who within the company would lead the charge in terms of driving digital transformation, the respondents called out the CIO (40%), CEO (39%) and the CFO (35%), while the CTO (20%) and the CMO (6%) weren't deemed as influential.
The results about who was in charge varied by region. In the US, the CFO is believed to be driving digital transformations (42%) while only 32% said the CEO was responsible, which was the lowest CEO score out of all of the regions.
In Brazil, 57% of those surveyed said the CTO was responsible, which was the highest CTO score out of all of the regions. The Scandinavian respondents said the CIO should head up digital transformations, (45%), followed by the CEO (38%).
The digital transformation waters were even more muddied in Asia, where 29% said they didn't know who owned digital transformations in their organizations.
"This survey shows that senior leaders of large industries have realized the potential that digital transformation offers, but in many cases haven't got a strategy in place to leverage it yet," said Mark Boulton, CMO at IFS. "It appears there is also a great uncertainty regarding who is actually responsible for driving the digital transformation agenda within companies. Companies must clarify their goals and outline clear strategies in order to utilize the full potential of digital transformation."
When respondents were asked to rate several disruptive technologies by how important they were in driving digital transformations, the Internet of Things and cloud computing tied for first-place while cognitive computing and machine learning placed second and third, respectively.
The survey was conducted with close to 500 senior decision makers -- including CEOs, CMOs, CTOs and CIOs -- from 20 countries across various business sectors, including industrial manufacturing, construction and contracting, retail and wholesale.
— Mike Robuck, Editor, Telco Transformation