One of my passions is economic development. I am not talking about promoting un-planned, explosive economic growth, but healthy and sustainable economic growth that is well thought out and enhances an area's livability and future. In my work with EOT, I have been involved with economic development locally and at the state level.
As a result, I was invited in February of last year to participate in a state-led meeting on Industry Sector Partnerships. What is a sector partnership exactly? Here's a definition from the Arizona Commerce Authority:
"A Sector Partnership is an industry-led effort that collectively defines common opportunities and challenges and connects these businesses with workforce, education, and economic development partners. These employer-driven and regional partnerships create highly customized solutions that improve a company's bottom line."
An example might include farmers, owners/managers of local and long-haul trucking companies and owners/managers of local food processing facilities working together to find ways to streamline operations (since they all depend on each other) and then working with the local educators (K-12, community colleges, trade schools and universities) on workforce development.
The facilitator of the meeting focused on the need for a convener/local champion as a prerequisite for realizing a successful sector partnership. In other words, someone has to have the vision of what a partnership can accomplish and lead the members of that partnership through the process. As a provider of telecommunications, I realized that my company could logically sit at the table with almost any sector partnership because of the dependency of almost every facet of our economy on voice and data communications. But, I was unsure of what specifically I should do about it.
Just last month I had the privilege of attending a conference organized by Light Reading and Heavy Reading. The conference was focused on virtualization but included discussion topics ranging from software-as-a-service (SAS) to answering the question, "What is the next killer app?" As you might imagine, opinions and approaches were plentiful and varied greatly.
I found it interesting that some major players were happily sprinting down the path of complete virtualization of their networks to include their customer premise equipment. They talked about the customer self-installing the service and strongly inferred that they were exploring other ways to minimize their interaction with the end user. I was surprised. It seemed as if they had decided to deliberately commoditize their product and remove any human differentiators.
Here at EOT, greater than 50% of all of our "trouble tickets" are resolved with customer education or by fixing an issue that is not a part of the service we provide. Common issues include forgotten passwords, wireless interference with customer owned wireless routers, unplugged customer components, etc. One of the significant reasons why customers choose us over our competition is because of the service we provide, not the product but the service. Relationship and human interaction matter. It would be foolish to believe or even wish that our customers are technology experts. If they were, then our product really would just become a commodity and there would be no place or need for competition. The customer wouldn't need us; they'd just need a connection to the Internet. So, I am for virtualization of the network, but not of the relationship with our customer. I value it and I am certain that our customers value it as well. It is a big reason why we are relevant in the market that we serve. So, shouldn't we strive to be the technology single point of contact for our customers, providing connectivity and security; consultation and integration; and relationship?
The next discussion was sparked by one company's abandonment of its data center/cloud services business. Instead, the company had a renewed focus on infrastructure and connections. They believed that they were best suited to just worry about providing a connection and did not want to get distracted by the cloud and SAS. They stated that they were not going to be the ones to come up with the next killer app. It would be developed by some innovator trying to answer a question or looking for a way to fill a need.
Which brings us back to the Industry Sector Partnership discussion. It certainly seems as if the telecommunications service provider can and perhaps should be a convener of industry sectors. We are uniquely qualified to do so. As illustrated by the graphic below, we are the common denominator or natural intersection point for the discussion to take place and for solutions to evolve. I would argue that no one else at the table is better suited to enable the discovery of the next killer application than us.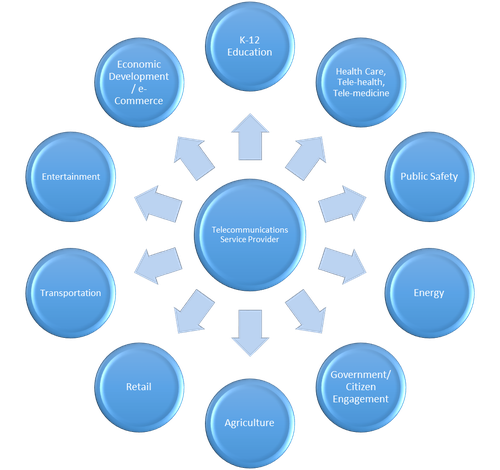 So, for me it is no longer just about Industry Sector Partnerships and economic development. Perhaps the new role of the telecommunications leader is to be the convener. We can help our communities and businesses discover and define goals that don't exist today. Someone has to start the discussion. Someone has to lead. Why shouldn't it be us? After all, the next killer app will be enabled by our networks.
— Joseph Franell, General Manager and CEO, Eastern Oregon Telecom