CenturyLink is reaping the rewards of its GPON and fiber-to-the-home (FTTH) efforts in the Twin Cities with Monday's launch of its Prism TV service in St. Paul and 19 other cities in the area.
The Prism TV tiers are offered in tandem with CenturyLink's 1Gbit/s broadband service in certain areas in Minnesota and in cities around the country. CenturyLink Inc. (NYSE: CTL) started rolling out its 1Gbit/s broadband service to businesses and residential customers in the Twin Cities in 2014 with the initial Prism TV launches kicking off in June 2015.
The Prism TV service features a whole-home DVR that has up to one terabyte of storage as well as the ability to simultaneously support six streams on eight TVs around a home. In what has almost become table stakes for whole-home DVR services, Prism TV gives customers the ability to start watching a show in one room, stop the program and resume watching in another room.
The set-top box uses Wi-Fi 802.11.ac to stream video to the various locations, which means customers don't need to locate their TVs and boxes near coaxial outlets.
CenturyLink, which competes against Comcast Corp. (Nasdaq: CMCSA, CMCSK) in the Twin Cities area, currently has 350 channels available on Prism TV, with 220 in HD. Depending on the bundle, Prism TV starts at $69 a month and goes up to $114 on the high end. The Prism TV app is currently available on Android and iOS smartphones and tablets, with support for Roku and other devices becoming available in the next few weeks. Prism TV also includes VoD and an app center for social media sites.
For the standalone gigabit service, pricing starts at $79.95 a month.
Telco Transformation spoke with CenturyLink's Tyler Middleton, vice president of operations for Minnesota, about Prism TV and gigabit broadband.
Telco Transformation: So even though you first launched Prism TV last summer, you announced 20 cities this week?
Tyler Middleton: The Twin cities area was pretty unique in terms of the number of cities that require individual franchises. The pure magnitude of the franchises we had to work through was a challenge. We started off last June with the city of Minneapolis and have been in discussions with what equates to 70 additional cities in the greater metropolitan area here.
We have 25 cities that have gone through the cable franchising city approval process and 20 of them that are turned on. That will continue through the course of 2016 as the additional franchises are approved. The three biggest cities, Minneapolis, St. Paul and Bloomington, are all approved.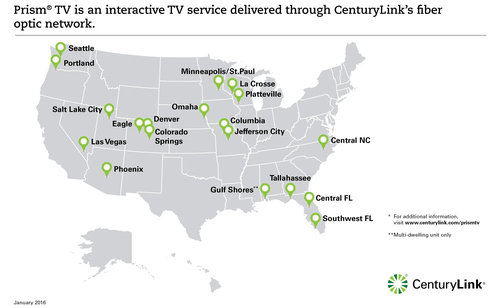 TT: Can you give us an overview of the Prism TV service?
TM: It's a very high quality digital picture that operates over either our new 1Gbit/s gigabit fiber-to-the-home networks or over what we refer to as the hybrid fiber and copper networks as long as those networks are upgraded to be able to accommodate the video signal. It's a very, very fast experience if you're a channel surfer like many of us are. You can fly through the channels without any latency that you might experience with either a satellite or cable solution.
TT: So are you deploying fiber in greenfield builds?
TM: In most cases we're using fiber in greenfield areas, but the 1Gbit/s network is an overbuild. In the case of the Twin Cities we've enabled over 100,000 households during the course of 2015. It's an upgrade and complement to our existing fiber-to-the-node network or DSL network.
TT: So the overlay is GPON, and what vendors are you using?
TM: It is GPON, and the vendors are either Calix Inc. (NYSE: CALX) or Adtran Inc. (Nasdaq: ADTN).
TM: Was there a cultural transformation that needed to take place with things such as training?
TM: In terms of our existing workforce the benefit is that we've already been deploying GPON. From a Prism TV perspective, it operates over GPON and our existing networks, so for those folks it's a question of cross training them. They also need to be confident as regards the Prism product itself in the customers' homes as well as how it operates and how to install it. That was a pretty extensive cross-training process. We also hired a lot of new employees who have been going through very broad training in terms of the networking side as well as Prism.
TT: From an engineering perspective, were there any lessons learned?
TM: From a technology perspective, we've done 1Gbit/s and Prism TV in other markets. Aside of all of the franchises, it was really about applying the technology to a new market. It's really hatching a new business within the greater business and then putting all of the resources and systems in place to be ready for the demand when we roll everything out.
TT: Earlier this week, Comcast announced it was deploying its DOCSIS 3.1-based service in some cities, although the Twin Cities wasn't on that initial list. What are your thoughts with regard to competing with Comcast? (See Comcast Reveals First D3.1 Gigabit Cities.)
TM: Obviously Comcast is a very strong competitor, but I think the thing that really has struck a chord with all of the cities that we've talked to is that for the first time in 35 years, in many cases, there's now choice for their constituents and competition in the market for a wireline video solution. That's really something that everyone has embraced and welcomed because it drives customer service, pricing and technology advances, one of which is 1Gbit/s speeds. The consumers' demand for speed and capacity seems to be somewhat insatiable so I think our investments in 1Gbit/s are really demonstrative of our commitment to that market.
We're really excited about this. We've had very early, good success with the customers who have started to migrate from our competitors to our platform and we're very excited about the future.
— Mike Robuck, editor, Telco Transformation