With 203 million customers across Europe and Asia, Norwegian incumbent Telenor is one of the world's biggest mobile service providers. But as its traditional markets become saturated and commoditized, Telenor is exploring a variety of different pricing and service models -- including a move into entirely new fields.
Fresh from Telenor Group (Nasdaq: TELN)'s $360 million acquisition of digital advertising specialist Tapad, head of research Bjørn Taale Sandberg met with Telco Transformation to discuss the impact of 5G and virtualization technologies -- hot topics at last week's Mobile World Congress -- as well as the importance of digital transformation to the operator's future.
Telco Transformation: What plans have you made regarding 5G so far?
Bjørn Taale Sandberg: We haven't announced any concrete rollout or trial plans but we are active and participating in research on 5G and we'll be a part of standardization efforts this year. We think it's important to be a part of the shaping of future standards so that it's not just done by vendors.
TT: Are there any specific regulatory and business needs for European operators when it comes to 5G -- regarding spectrum, for instance?
BTS: That is an interesting question. When you are a pan-European operator you will optimally need the same spectrum in all countries. For us we are spottier in terms of which countries we are in so it's not as big an issue. We want 5G to support the spectrum that will be available and we want it to support both lower frequencies and higher frequencies. When it comes to regulation, one of the big things with 5G is this concept of network slicing -- which means for this vertical there are specific requirements about performance and coverage. And slicing through software control allows us to do that without building separate networks for verticals, which is a bad idea from an operator point of view.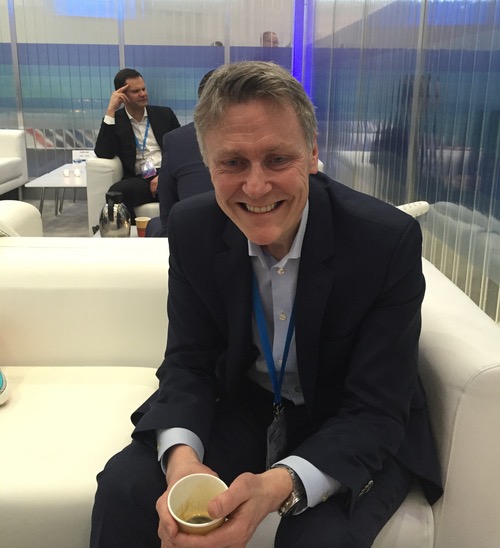 TT: What does that mean for the design of the network itself? Does it make technologies like SDN and NFV more important?
BTS: Definitely. They will be a core part of the solution for 5G and obviously we'll be doing that before 5G is rolled out. Everyone is looking into NFV now to be able to do this network slicing. Then you get into the question of whether the regulatory regime will support that. Our position is that the EU has come down in a fairly balanced way on net neutrality -- they do open up for specialized services, which can have their own requirements. The question is will you be able to define all verticals as specialized? That we don't know yet and there is lots of work that needs to be done.
TT: So net neutrality is actually a bigger deal in the 5G world because of this concept of network slicing?
BTS: Our thinking about 5G is that you should be better able to offer a bespoke quality of service in terms of bandwidth and latencies to specific customers, and our system is designed to allow that without building separate physical networks. It's done through software. If regulation doesn't allow you to do that then you forego an opportunity. In my spare time I build apps for fun and one of them is a network app and it requires some sort of performance. Today I can buy server performance from the cloud service where I host my application, and I can say I want I will this memory and so on, but I can say nothing about the network performance. I have no say over how well it will perform on the phone of the customer. Because of that I have had to spend many hours writing code to cater for bad network conditions. That is a lot of effort. If I could spend €4 euros [$4.40] a month extra on my subscription and know that I have at least 250 Kbit/s of bandwidth to a customer at any time I would save a lot effort. But under current network neutrality current rules I couldn't do that unless it was part of a specialized service that is defined as exempt from the general rules.
TT: Those rules seem to be quite confusing with lots of scope for interpretation. Deutsche Telekom has said it thinks it would be able to charge OTT [over-the-top] players for an assured level of service.
BTS: We don't think we can do that right now but as you say there is still confusion in this area.
TT: It sounds like an opportunity for lawyers?
BTS: Yes, there is a business model there for lawyers!
TT: What use cases with regard to NFV hold the most promise?
BTS: We are researching this and testing it out lab-wise but I don't think any of our businesses have so far committed to wholesale rollout. But it is one of the things we'll need to do -- to "software-ize" the network. It is going to happen. We have a small trial MVNO going in Norway, which we call Lowtel, which has built a core stack using mostly free software and is running a full 3G operator based on that. When it comes to use cases, there is the obvious one of cutting costs in the core. It is also interesting to see new digital services we can play with and how much better we can get at rolling things out quickly. This Lowtel test -- they have built this with something like 12 engineers and it's in operational use with a few customers -- you get a call on your mobile and when you are in range of a PC you get a message about transferring the call to the PC. You can do that seamlessly and it then brings video up at the same time. It's easy to do in software and hard to do the old way. It exemplifies what you can do. So we believe there is an opportunity to revitalize telco services.
TT: How mature are the NFV technologies at the moment.
BTS: Not totally. The upside of software is you can modify it easily and quickly; the downside is there are bugs. That is one reason to be a bit conservative about committing wholesale. You can't afford to have the network out for hours. We had an incident in Norway because the signaling from a foreign operator brought switches down and made it impossible for people to make calls. If the risk of that increases because of virtualization it makes things difficult. So we won't be committing wholesale until we're confident it delivers something like 99.999% reliability. But we don't think we can sit back either. We need to be one of the early movers.
TT: What are the risks of not moving quickly? Is the chief threat from other operators or OTT players?
BTS: Today the hardest competition is still from telcos. Yes, a lot of the time spent on mobile is spent on services other than what we provide and that will continue to be the case. We don't see OTTs as the primary competition anymore. In a way they are role models when it comes to the digital journey. They are partners and companies that can help us get better at competing. We have shifted our rhetoric from talking about them as a threat to talking about them as part of the ecosystem.
TT: Is it getting easier to work with them?
BTS: Telenor has been quite proactive here. We've said earlier we need to partner with these guys rather than do it all ourselves and not learn anything. We try to be a part of the ecosystem and work with them rather than against OTTs. We have built a global backend where all our telcos are integrated to some extent, which makes the customer base available in all our markets with one API. It has made it easier to make Mobile Connect [a GSMA-backed digital authentication service] available. We have our own ID solution we call Connect ID, which we have implemented in most business units -- in all Asian units except India -- and through a single API that allows us to implement the GSMA mobile ID solution in all our markets and that is because of this global backend.
Next page: The digital journey