The recently concluded Olympics showcased several events in 4K resolution, and highlighted the growing interest and adoption of the higher-resolution format. Analysts have forecast that one in every eight homes in North America will have a 4K TV by the end of this year, growing to 50% of all homes by the end of 2020. The UK, Germany and China are other fast-growing markets, but the technology does face some challenges. (See AT&T & Dish Mix 4K Into Olympics Coverage.)
4K TV prices are falling steadily, but availability of content continues to be an issue. Telco Transformation discussed the 4K content being offered today by AT&T Inc. (NYSE: T) and its plans for the future in an interview with John Ward, the SVP of content operations for DirecTV (which now sits under the AT&T Entertainment Group).
To avoid confusion, I should clarify that most of AT&T's video initiatives are being led by DirecTV Group Inc. (NYSE: DTV) now, and even AT&T's IPTV subscribers on its U-Verse service are being migrated to DirecTV since the acquisition closed. So AT&T and DirecTV were used interchangeably in this interview.
Part I of this interview discusses AT&T's current 4K content, where the operator is sourcing it from and its motivation for rolling it out at this time. The second part of the interview, to be published in a few days, will discuss AT&T's plans moving forward and some of the technological challenges still confronting the industry.
Telco Transformation: AT&T recently announced 4K coverage of the World Series of beach volleyball, and also covered the Olympics in 4K. How much 4K content are you currently offering?
John Ward: We've been offering three 4K channels since April this year on DirecTV. This includes one 24x7 curated content channel we call the Audience Network. This has a combination of dramatic content, documentaries on nature and other topics, music, etc. This is all content we have acquired and mastered in 4K ourselves. The second channel is pay-per-view movies, re-mastered from film into 4K, and the third is our part-time event-based channel where we have broadcast most of our 4K sports events. This includes the Olympics in Rio of course, but even before that we provided coverage of the golf Master's at Augusta, the UFC 200 (as a pay-per-view event in 4K), Major League Baseball, the PGA Championships and now beach volleyball. I would say in total we have offered more than 500 hours of 4K coverage in total so far.
TT: Where are you getting your content? Are you producing it yourself?
JW: Some of our curated content is original content. Our music content, for example. But other content, no. It's not really our core expertise and it's better to focus on the core business requirements for now. We're not going to do some things -- like a baseball game. We would need rights and relationships for that kind of stuff, so probably only with a partner. Maybe we can do some types of content at some stage in the future but for now we work with partners and acquire content.
TT: Are you seeing differences in quality depending on the source of the content, and the type of content itself?
JW: Yes, it can vary somewhat. For example, our Olympics feeds were originally from (Japanese broadcaster) NHK, who covered the Olympics in 8K, and then the Olympic Broadcast Services and NBC (the US broadcaster) downconverted those feeds to 4K and we picked them up. That looked good -- it looked very, very good. But it still depended somewhat on the event. For example, the swimming looked stunning -- the motion of the water in that kind of resolution is truly amazing. The opening and closing ceremonies were also stunning. But something like Judo didn't have the same appeal -- there isn't that much visually exciting stuff in that kind of closed venue.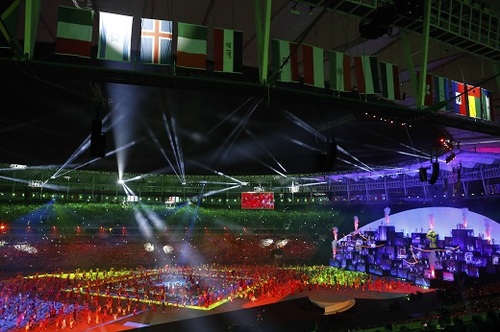 But then our coverage of Augusta was just stunning. I'm a golfer, and for me this was the closest to seeing how stunningly beautiful the course really is. This is the closest you can get to seeing it without being there. It's so vivid, the colors and the detail. People don't realize how up and down the course is, how incredibly tough to play. 4K can really show you that -- the mud on the cleats of baseball players, the sweat on the pitcher's brow, even the hangnails on players' hands. It's really vivid -- and it's the best way to tell a story.
I used to work for David Hill when I was at FOX Sports, and he would always say we should use technology, but only if it helped to tell our story better. That's what 4K does; it is the best way to tell a story -- dramatic and in a better fashion.
TT: What was the driver for rolling it out?
JW: It was to differentiate -- first and foremost. We were the first to do a 4K live broadcast, and even before that we were the first to do 4K for VoD. It's important we deliver innovative services, we have a history of being first. It's about offering customers what they want, and to some extent, it's about creating demand. We have to show it to people, show them how great it is and that it is something they absolutely have to have.
4K is also a big science experiment right now. We are all trying to figure it out, and it's important to be part of that, of such a community. And yes, there's obviously competition, but I am impressed with how different OB units (Outdoor Broadcast) and various other technology vendors are trying to work together to make all the different elements of the technology work. I'm really impressed with how the industry has tried to make the experience better for all.
— Aditya Kishore, Practice Leader, Video Transformation, Telco Transformation