Eutelsat is one of the largest satellite operators in the world, with 39 satellites covering Europe, Africa, the Middle-East, Asia and the Americas. The company serves various kinds of sectors, from government to maritime, but the majority of its revenue comes from video delivery, working with broadcasters and network operators to aggregate and deliver TV content.
Satellite providers have been facing growing competition from terrestrial fiber providers, and from a rapidly changing digital media landscape, where customers have constantly changing requirements.
Eutelsat Communications S.A.
has developed a new type of satellite, Quantum, which allows more flexibility than existing technologies.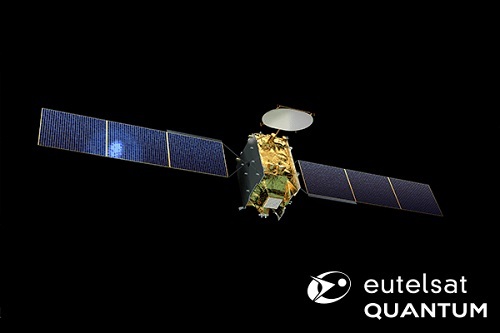 Telco Transformation joined Yohann Leroy, deputy CEO and CTO for the satellite company, to discuss this new satellite technology and get his thoughts on the need for flexibility in the broader market as well.
Telco Transformation: Can you describe your role at Eutelsat?
Yohann Leroy: I am the deputy CEO, responsible for technology and also the CTO. I joined the company seven years ago as director of strategy, and became CTO three years later. Recently I was appointed deputy CEO. My main role is to manage the technology team and to ensure Eutelsat makes the right technology choices to serve current and future customers.
TT: What major trends are you seeing today in your market?
YL: There are two type of trends: technology trends on one hand, and market trends on the other hand. Market trends are to do with consumption of video. Eutelsat generates the majority -- about two thirds -- of its revenue from video applications. There is a sort of "maturing effect" in developed countries, with a degree of standardization in the number of TV channels. But considerable growth potential still in emerging markets. And compared to our competitors, Eutelsat has the lion's share of revenue in emerging markets. In terms of technology, we are seeing evolution in compression formats so we can send more Mbit/s per Mhz. But we usually lose that in improvements in resolution as we move from SD to HD, and from HD to 4K UHD. The overall trend is that we are flat in developed markets but growing in emerging markets. Another area is mobile access -- planes, boats, cars etc. Planes are the strongest segment today, [with] a number of airlines offering RFPs. They want terminals for web access for passengers, which will generate several billion in annual revenue, according to several analyst forecasts.
Cars are [a longer-term opportunity], but again forecasts predict connected cars will make web access a commodity in cars, just like in the home.
Also connectivity -- For those who are outside the reach of terrestrial (i.e., fixed-line) networks or have access, but poor quality, satellite broadband [can be a good option.] There are four billion people not connected today -- satellite can bring the benefits of the digital economy to these people. New [satellite broadband] technology is significantly improved. It has been improved by an order of magnitude compared to what satellite can offer today. And we are not talking about technology far into the future but beginning in the next decade. It can come close to optical fiber at the same price, with a similar quality of experience. Or, in emerging markets, it can offer a lower quality of experience but at a price compatible with the purchasing power of the people who would be interested.
TT: We have talked about the new satellite technology from Eutelsat, Quantum. Can you tell us what led Eutelsat to develop it?
YL: Satellite is a capital intensive business, with a long industry cycle. Typically it takes three years before a satellite goes into service and lasts about 15 years. So it's important to plan our investment effectively as it is about $200 million typically to launch, insure and build the satellite. So we need to anticipate market evolution. Nobody has a crystal ball, so we have to create features that can be flexible, adapt to new requirements -- and that is what led to Quantum.
TT: What is Quantum, and what does it offer?
YL: It is far ahead of anything done so far in terms of flexibility in orbit. [We called it] Quantum because it [we see it as] a quantum leap in terms of anything done so far. It is more flexible, because we have found a way to shift technology from hardware to software. Previously we could adapt [satellite functions] to some extent, but we had a limited number of options. We could choose given hardware or shift to different hardware. But with Quantum, satellite transmission characteristics are linked not to hardware but to software. This software that we are developing can address three different types of elements: Firstly, we can change the uplink frequency we use to receive signals. Secondly, we can change the power levels at which the satellite broadcasts signals, depending on service requirements, terminals and applications. And thirdly, Quantum can change coverage while in orbit. Not just the uplink, but even the transmission coverage. It is the first "software defined" satellite, and because functions are defined in software, it has so much flexibility. We can decide on the ground which frequency to transmit, coverage both for uplink and downlink and the "link budget" -- the power levels for transmission and reception based on the size of the antenna at each end. We can even give the control to the customer, and they can decide all three variables themselves. We call this the second level of flexibility, where we give the joystick to the customer, and let them decide what they want to do. Of course, it has to be compatible with certain requirements -- we have some boundaries -- but customers can do whatever they want inside those boundaries. This is especially appealing to some customers, such as government applications where confidentiality has to be taken into consideration -- they don't want to inform a third-party about specifics regarding their satellite position. With existing satellites, customers must adapt to the satellite, but with Quantum, the satellite will adapt to the customer.
TT: How do you see this space evolving?
YL: My view is that the pace of change is accelerating. The market must evolve faster than in the past decade. Technology is also improving at a faster pace than we have seen. If we look at the satellite industry, probably approximately 20 satellites are ordered every year. They are all very specific to regulatory constraints and orbital location. So the industry has very low volumes, because very specific things have to be done for each satellite. But now Quantum is orbital location agnostic to some extent. We don't need to do anything specific based on the orbital slot. This can help the satellite industry move from more of a "handicraft" industry to full-scale industrial production. It should also reduce cost -- if you move to a full-scale industrial process, costs should come down.
— Aditya Kishore, Practice Leader, Video Transformation, Telco Transformation