Much has been written about the role of AT&T as an aggressive proponent of network virtualization, a role that has many of its peers regarding it as the market leader in building out a next-generation communications networking infrastructure.
But of course it's not just about the network, as John Donovan, chief strategy officer and group president of AT&T Technology and Operations, pointed out earlier this week in Barcelona.
AT&T Inc. (NYSE: T) is aiming to have 30% of its network virtualized this year and 70% by 2020. That's quite the timeline. So Light Reading CEO Steve Saunders, at the very beginning of an exclusive, on-stage interview at the pre-MWC Digital Operations Transformation Summit in Barcelona, asked the AT&T man -- "Why so aggressive?"
"Survival," was Donovan's immediate answer, noting that it isn't just advantageous to be pursuing a virtualization strategy seemingly so quickly -- it's "absolutely necessary," he added.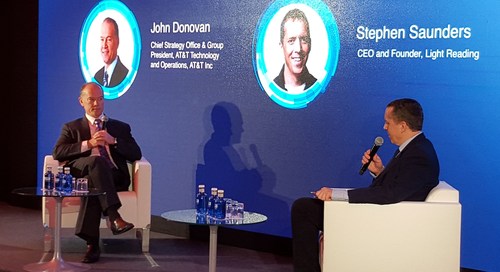 But Donovan was very quick to add that those percentages only relate to AT&T's physical network infrastructure. "Let me remind you that's just the WAN [wide area network]… In our traditional IT environment, which we don't have any more, in our target architecture there, we are already 60% in the cloud and at the end of the year we will be at 80%. So we are marching into the cloud in every dimension in everything we do, as quickly as we can."
That's a quite astonishing statistic and suggests that AT&T has finally been able to tackle something it's been trying to deal with for many years -- the complexity of the back office support IT systems and software that underpin the operations and business processes of every communications service provider.
That AT&T is now making swift progress with the transformation of its network -- a process that involves the adoption of cloud architectures and operations, the virtualization of its network functions, followed by the introduction of white box networking -- must surely be attributable in part to the initial process of running and managing those supporting IT functions in the cloud. (See AT&T's Donovan Touts White Box Networking and White Box Is the 'Big Prize' – AT&T's Donovan.)
That's a major lesson from which every CSP can learn.
Check out Donovan's interview -- it will be 30 minutes well spent, believe me. (See CEO Chat With AT&T's John Donovan.)
— Ray Le Maistre,

, Editor-in-Chief, Light Reading