Many carriers and service providers have no strategy about how to deal with the Internet of Things (IoT), according to P.K. Agarwal, the Regional Dean of Northeastern University-Silicon Valley.
That's a big deal, since the IoT represents a pervasive change in the way technology is implemented and business is conducted.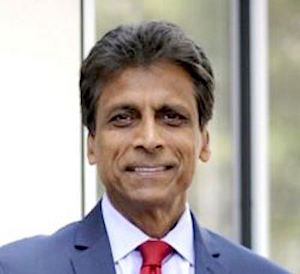 Northeastern, which is based in Boston, last year established a satellite campus in
San Jose, Calif
. The aim is to train, "upskill" and "reskill" students to deal with IoT challenges. It currently is running bootstrapping sessions and will inaugurate regular classes for more than 100 students in September, Agarwal said.
In conjunction with the launch, Northeastern conducted research with 200 IT professionals at the Sensors Expo last month. The survey found that security was a big barrier for IoT adoption, according to 39% of the respondents. The most striking takeaway, Agarwal said, was that almost half of the 200 respondents -- 46% -- said a lack of an IoT strategy is a key challenge for industry adoption.
That's a big deal. Agarwal points to the IoT as the fourth wave of the Internet -- after the Internet of documents, the Internet of commerce and the Internet of people. Each of these, he suggests, represents investments and complexity that are roughly ten times greater than the previous iteration. The obvious takeaway is that moving into the IoT without a well-thought-out strategy is not wise.
Agarwal quoted predictions that there could be as many as 26 billion connected devices by 2020. Instead of a cohesive strategy, Agarwal described the blind man and elephant scenario: Hardware people see sensors and other physical elements; networking people see the need to move data around seamlessly; and classical computer science people see issues such as cloud creation, machine learning and security.
The IoT won't realize its potential if these silos remain isolated from each other.
"The number of disciplines that have to come together to craft a product or service or a strategy is great," he said. "It's very multi-disciplinary."
The sheer width and breadth of the IoT makes crafting a holistic strategy as difficult as it is important. Agarwal suggests organizations start with small projects and pilots. Put the big conceptual thinking on the back burner, at least temporarily, in favor of gaining experience and starting down the road to the creation of processes and procedures that can be extended when the training wheels come off.
"Start small, get a lot of experience," he said. "Expect to fail. Fail fast. You are going to lose out if you spend too much time thinking big."
Making the IoT real is going to take a lot of attention. Agarwal says that once a business case is established, attention should turn to extending it through the organization. Enterprise-wide networking strategies, data management strategies, security strategies, business strategies and others must be set.
That, however, is only half the battle. The other half happens in the field.
"You can design a pilot and make it work. At that point, you say, 'Hmmm... who is going to do all this stuff?' At some point, you need an army of people to install, maintain and debug this," he said. "Will they come from the engineering side? The computer science side? The field side? The short answer is that they will come from all directions. [But] I haven't seen enough in media say that there is enough attention to the people side of things."
Agarwal said that a good place for telecommunications companies to start making this real is smart home services -- and they should do so in the dens and living rooms of their subscribers. The challenge used to be as simple as connecting a subscriber's laptop to the WiFi network and making sure it could get on the Internet. Now, telcos and cable companies face sophisticated smart home questions that almost always include elements of IoT.
Smart companies can prosper during times of transition and confusion. The IoT will be that. "The need is across the board," Agarwal said.
— Carl Weinschenk, Contributing Writer