Three out of four members of TT's Video Transformation Advisory Board (VTAB) believe that developing a business model for OTT video services is essential or very important for their business, according to our research survey.
As many readers are aware, we have drawn together some of the most experienced and knowledgeable minds in the video industry to create the VTAB. The initial group of board members were announced last month, and we shared initial findings from the survey. (See Introducing the Video Transformation Advisory Board ).
As discussed in our previous post, the survey found that next-generation TV services, OTT service delivery, profiling and advertising, and enabling technologies/infrastructure are the most important areas of innovation identified by our board members. (See First Ever VTAB Survey Finds 4 Key Areas of Video Innovation).
Today, we can share some additional findings, relating to OTT video service business models. As you can see below, developing a business model for OTT rates very highly.
Q: How important is it for your company to develop an effective business model for OTT video service delivery?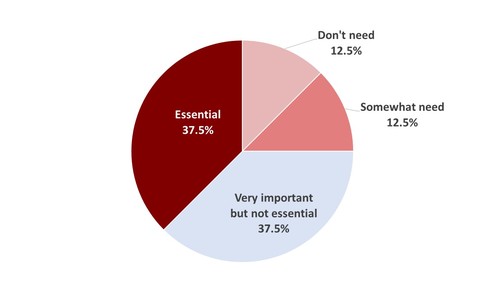 The majority of our members are operators, so this provides some insight into the thinking within large pay-TV operators. The VTAB survey represents the opinions of decision makers shaping video services for hundreds of millions of subscribers worldwide.
This should be seen in the context of another finding from the survey, where gaining partners for an OTT service ranked as the most important requirement for the next three to five years -- higher than encoding/transcoding evolution, launching 4K/HD, virtual reality, cloud, etc.
These findings underscore the importance of OTT services for pay-TV operators, and their ongoing efforts to develop the right business model for such services.
— Aditya Kishore, Practice Leader, Video Transformation, Telco Transformation