Mobile video usage will grow to 75% of all 4G traffic by 2020, according to new research released by Huawei Technologies Co. Ltd. and our sister company Ovum Ltd. The joint study, titled "The Evolution of Big Video -- Examining Telco Transformation Video Opportunities," identified a broad range of technologies fueling this growth. The companies listed UHD video, social video, virtual reality and emerging IT technologies such as cloud computing and big data, as the key drivers.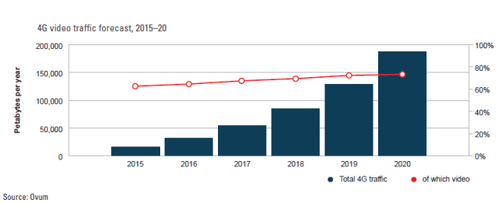 The study analyzes key trends in the consumer market but also looks at issues driving enterprise adoption of video services, such as videoconferencing. It is aimed at providing telecom providers of entertainment and communications services as well as vertical industries' insights into current circumstances and future trends for the video sector.
The study found that IPTV and SVoD were most likely to affect the video strategies of telecom providers, and laid out three main "steps to success" for operators:
Bundling effectively: Operators should identify families, individuals and enterprises as the three target segments for video service bundles, and create innovative bundles to serve them, such as aggregated online and mobile video services and TV entertainment offerings.
New monetization models: Operators can drive retention and loyalty by creating new monetization models beyond simply paying for services. Instead subscription models that are built on differentiated video quality should be explored.
Integration across video ecosystem: Operators should also try and drive integration across the video industry to "maximize the market opportunities for all participants in the video distribution value-chain."
— Aditya Kishore, Practice Leader, Video Transformation, Telco Transformation