Half the time spent online by US consumers is spent interacting with smartphone apps, recent research from comScore Inc. has found. According to the comScore MMX Multi-Platform and comScore Mobile Metrix, the importance of smartphone apps has grown steadily and now accounts for as much time online as all other digital platforms combined.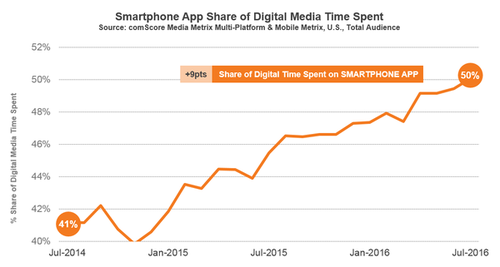 That's at least somewhat ironic since
Apple Inc.
(Nasdaq: AAPL) founder Steve Jobs was
initially opposed
to enabling third-party apps on the iPhone, unconvinced that they would benefit Apple. He was also concerned about infecting the iPhone with viruses or other malware, or damaging the device's carefully developed user experience. However, as we all know now, Jobs was eventually convinced, and the rest is history.
comScore analysts believe that the growth in app usage is a result of more constantly connected lifestyles today. People tend to naturally look for information and social interaction more frequently today, and unless they are seated in front of a computer, they are most likely to reach for their smartphone and launch an app. Examples include listening to music, getting directions, checking email or interacting with a social media app.
Analysts also pointed out that as smartphone screens have gotten larger and 4G networks have enabled faster connectivity, there is less reason to turn on a computer and access the information that way. Reports from other researchers have also identified the growing dominance of mobile devices in media consumption. (See Mobile Cannibalizing Other Media, Finds Latest Zenith Media Consumption Forecast.)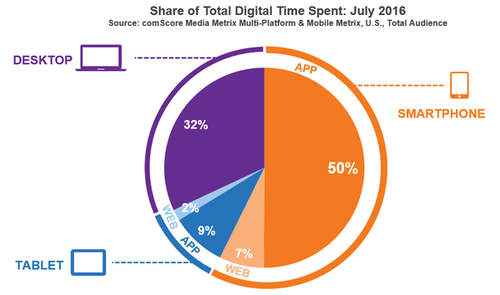 The 50% figure actually does not include apps accessed via tablets, which add a further 9% of time spent in July 2016. So total app interaction is actually closer to 60% of time spent online in the month, though obviously most of that is on a smartphone. And comScore anticipates this will continue to grow.
Desktops, laptops and tablets are likely to remain important for the foreseeable future, and television viewing was not included in this research. But for all publishers and advertisers, this is an important trend to address in their future digital strategies. Most OTT and pay-TV providers are delivering their services via an app already, and as such are not likely to be affected by this trend. But other kinds of video providers, such as enterprises using video, providers of collaborative and communications tools that incorporate video, social video providers and others will all need to factor this growth in app usage, and its increasing dominance in media consumption.
— Aditya Kishore, Practice Leader, Video Transformation, Telco Transformation