LONDON -- OTTtv World Summit -- It's important for broadcasters to keep things simple in order to grow their VoD portfolio successfully. This was the conclusion offered by Robert Dube, vice president of video-on-demand and video production at RTL Interactive, in his presentation at the OTTtv World Summit here today.
RTL , or more precisely, Mediengruppe RTL Deutschland, is Germany's largest free-to-air broadcaster in terms of market share. It is a commercial TV station, owned by the RTL Group.
In 2007, the broadcaster launched catch-up services for its flagship RTL channel, and then subsequently launched catch-up services for other channels -- RTL II, Vox and Super RTL. In 2015, these services generated 1.14 billion video streams.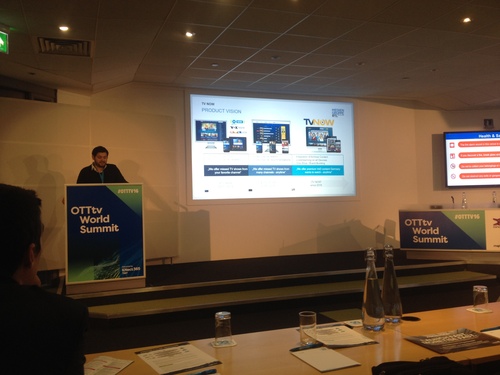 But growth also flattened in 2015, and the broadcaster took a long hard look at the structure of the services and decided to dramatically simplify them.
First, there was a different app for each channel, which was getting confusing for viewers. Then there was a confusing array of pricing and packaging models, including seven-day catch-up (offered free); transactional VoD, with titles ranging between €0.99 to €3.99 ($1.09 to $4.39) each; 30-day VoD season passes ranging between €2.99 to €29.99 ($3.29 to $33.05); and single show access for 30 days with prices that ranged between €1.99 to €7.99 ($2.19 to $8.80).
RTL decided to simplify the entire set of services by splitting them into two products: a free "standard" tier that is advertising sponsored, and a "Plus" tier, for €2.99 ($3.29) per month. The standard tier offers standard definition content and can be seen only on PCs, while the Plus tier has very limited advertising, HD content and is available on a number of devices. The services were also marketed under a single brand -- TV Now.
RTL has also integrated the services into a single app (for the top three channels) and it's now adding live streaming of the channels. The company is also partnering with local pay-TV providers to extend its reach, including Unity Media, Deutsche Telekom and Vodafone.
"We don't have a problem working with managed platforms," says Dube. "In fact, we are trying to push those as well. Our goal is to get subscribers."
According to Dube, RTL is following a process of continuous development and constantly trying to extend its reach. Today, TV Now is available on iOS, Android, AirPlay and Windows platforms, and it will soon be extended to Chromecast, Amazon devices and others.
The decision to shut down its old services and launch TV Now was not an easy one, as it meant that RTL had to start again from scratch -- with zero subscribers. But the broadcaster felt that it had tapped out the potential for its online services as it stood, and it was important to simplify the offer. The changeover occurred in March 2016, with RTL ending the in-app purchases and driving everyone back to its website to sign up for the new TV Now service. But the ramp-up was very quick: TV Now has already grown substantially past RTL's previous base of catch-up TV users, and it has also handily surpassed its monthly revenue numbers for the broadcaster.
This is particularly impressive given that TV Now subscribers are not the typical millennial OTT audience. Dube said they were older, less educated, less technology-savvy and had lower discretionary income than those typically subscribing to OTT services such as Netflix and Amazon.
RTL is also now live streaming its channels online. On-demand viewing accounts for the vast majority of viewing but linear video is also being consumed, and typically with longer viewing times. RTL also sees it as a sales trigger for subscribers, with live events like the Euro 2016 football tournament driving people to sign up.
— Aditya Kishore, Practice Leader, Video Transformation, Telco Transformation