While virtual reality/360-degree video is an area broadcasters and operators are exploring with great interest, it is still very early in the development of the technology, and compelling use cases are still unclear.
This was the primary finding of the most recent VTAB survey, conducted in November 2016. The VTAB (Video Transformation Advisory Board) is a group of senior executives at broadcast and pay-TV companies, assembled by Telco Transformation, to guide and inform our coverage of the Big Video explosion. (See Introducing the Video Transformation Advisory Board .)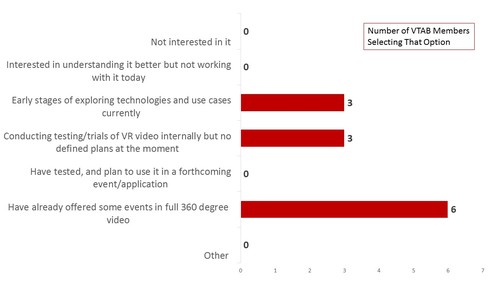 Data is not statistically significant but encapsulates the opinions and insights of some of the most knowledgeable and experienced minds in the video business. VTAB members are also decision-makers for video services reaching hundreds of millions of homes worldwide and, as such, their opinions provide great perspective on the adoption of new technologies within the industry.
The November 2016 VTAB survey found that there is widespread interest in VR technology, and no member was uninterested or dismissive. Half of all members had already offered some events in full 360-degree video, while another 25% were running trials, though had no defined plans at the moment for rolling it out commercially.
Still, some members were concerned about its commercial application, questioning if use cases and business models were sufficiently developed. There were questions about its applicability to the TV experience as well, with one member putting it best: "While interesting, we are not yet convinced of its value for mainstream video programming."
Another pointed out that using this new technology effectively would require changes in the way that content is produced, and there were questions about what that 360-degree video experience should be. The member said, "We are defining our editorial strategy and associated customer proposition. Technical[ly] we know we have the capability, [but] how you use that capability is far more important."
In fact, some were looking for other industries to lead adoption and seed the market for their content, as with prior transitions from film to videotape and DVDs to Internet video. According to one member, "[There is] a long way to go when it comes to broadcasters concerning good content. Gaming and the porn industry will lead."
But others were moving forward, with one member saying it was part of their strategy, and others pointing to VR content that had already been offered on previous broadcasts.
The survey does suggest that the buzz around VR is being picked up by broadcasters and operators. And while some are moving forward with trials and special event coverage in 360-degree video, serious questions remain about its role in the television experience.
— Aditya Kishore, Practice Leader, Video Transformation, Telco Transformation