Despite the buzz generated by virtual reality (VR), and the substantial investment being made in developing the medium, respondents to the Telco Transformation poll were unimpressed by VR's prospects in television entertainment. (See Virtual Reality Roundup.)
Interestingly, these results mirror a recent survey of our Video Transformation Advisory Board (VTAB) members, which also found that while the industry sees VR as an important innovation, there are a number of important questions still to be answered before real momentum can build. (See VTAB: Virtual Reality Picture Still Unclear.)
Both sets of responses addressed VR's role in the future of the television experience, and many respondents felt that other media (such as gaming and mobile apps) would offer a better platform for VR.
In our Telco Transformation poll, approximately a third of all respondents agreed that, "It may succeed in gaming or other areas but won't have much of an impact on the TV experience."
As one respondent put it, "It is still viewed as a new technology and has not gotten much demand."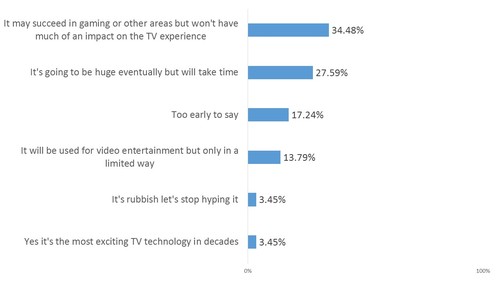 Approximately one in four respondents felt it would have a "huge" impact on the TV experience, but only over time. Another 17% felt it was just too early in the development of technology and the medium overall to be able to evaluate its impact on television.
Less than 14% felt it would be used in a limited way on TV, which was the use-case VTAB members considered the most practical: using VR or 360-degree video for broadcasting special events, such as major sporting events or concerts.
Coincidentally, the number of respondents with more extreme opinions were exactly the same: 3.45% of respondents felt it was the most exciting TV technology in decades, while the exact same percentage thought VR was over-hyped and completely undeserving of the attention it is getting.
One respondent felt that evaluating VR as a TV technology was in itself wrong, stating, "I think the proper way to look at VR here is as a completely different medium. People will consume it and engage with it completely differently than they do with standard video entertainment -- and the content for it has to be developed pretty differently too."
Another was concerned about the impact headsets would have on consumer comfort and adoption, pointing out that the requirement for special glasses constrained interest and adoption of 3D TV; and VR would face the same challenge.
Overall, it does appear that while there is significant interest and enthusiasm for the potential that VR offers, clarity in the area of specific use cases, business models and technology requirements and standards are all still quite far away.
— Aditya Kishore, Practice Leader, Video Transformation, Telco Transformation