Views on the impact of live streaming on mobile networks vary among our readers, according to a recent poll conducted on Telco Transformation. But most readers agree that the impact of streaming from social media apps will at least be significant.
Live streaming, offered by a number of social networks, gained prominence when Democrats in the US Congress staged a sit-in to protest inaction against gun violence. A couple of months before that, Facebook CEO Mark Zuckerberg had said that he expected Facebook to become "mostly video" in the next few years. And most social networks -- Facebook, Twitter Inc. (Periscope), Snapchat, YouTube Inc. , Instagram, etc. -- are now offering live streaming features of some sort. (See Social Video Could Be the Next Great Challenge for Network Operators.)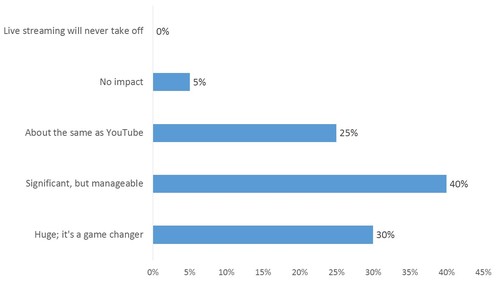 The largest percentage of respondents -- 40% -- felt the impact would be significant, but that operators would be able to manage it. However, another 30% felt that the impact on mobile networks would be huge, and that live streaming would transform the landscape for mobile operators.
One respondent said "I view this as a game changer. I note this based on my own experience trying to watch the live Apple announcements and watching it on an iPhone was … very frustrating. The need to transform mobile networks to deal with such traffic is absolutely paramount."
But others said " I think live streaming via social will be more novelty than game-changer", and "I doubt live streaming will be a huge thing because it just takes so much 'real time' to watch."
Yet another disagreed entirely with Zuckerberg's prediction, saying that "Live streaming -- except for people with notable online brands /podcasts -- tends to primarily attract niche audiences/content (e.g., gamers). While these markets are significant, I wouldn't expect to see a large amount of your Facebook friends to start live streaming from their mobile devices anytime soon."
A further 25% of respondents felt that live streaming would generate about the same traffic as YouTube, and so probably should not be a source of great concern for operators. Another 5% felt that it would have no impact at all.
— Aditya Kishore, Practice Leader, Video Transformation, Telco Transformation