AMSTERDAM -- IBC 2017 -- Using short clips effectively via social media can have a remarkable impact on subscriber acquisition and retention for an OTT service, according to Hendrik McDermott, senior vice president of branded on demand at NBCUniversal International.
Speaking at the IBC event in Amsterdam last week, McDermott talked about how Hayu, the relatively young OTT service which aggregates a variety of reality shows from NBC's library, promotes its content using short clips on its own site and via social media outlets.
Hayu (pronounced "hey you") is a subscription-based OTT service launched about a year ago in the UK, Australia and Ireland. It offers 4,000 episodes of reality TV shows from NBC Universal , including the various Real Housewives, Keeping Up With the Kardashians and Made in Chelsea. Five hundred new episodes are added every year, of which 75% are available the same day they are broadcast in the US.
McDermott's team has been able to use free short clips taken from these shows very effectively to promote the shows. The goal, he said, was acquisition and retention of subscribers, with the short clips working well to drive engagement and interest.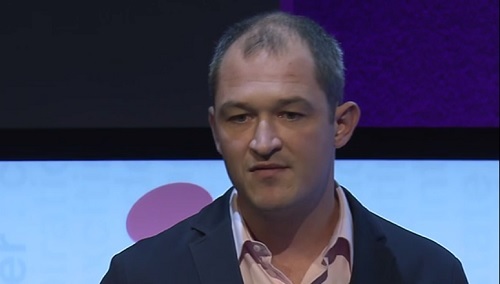 Initially, he said, the company used the clips only on its own platforms. An editorial team selected the clips and created a curated selection on the site. But McDermott has found that distributing them more widely on social media outlets has a massive impact on views and engagement, and does drive more subscriptions as well.
Social media services such as Instagram, Twitter Inc. , Snapchat and Facebook feeds are integrated into the platform, and users can share clips directly within their Facebook pages, for example. The exponential impact of just letting users share videos has convinced McDermott this is the way to go.
He cited two short video clips as an example, playing both to the audience. Neither was particularly remarkable in terms of the content itself, a fact he conceded immediately. But the viewership statistics he cited were remarkable.
The first one, of a character from Keeping Up With the Kardashians briefly discussing how perfect he was, reached 21 million users on Facebook, was shared 56,000 times and picked up 53,000 comments across all social media outlets. McDermott pointed out that it cost Hayu $9.50 on a cost-per-acquisition (CPA) basis.
The second was an even shorter clip, also of a member of the Kardashian clan, asking for a dog to be taken outside (at least that's what I understood). It reached 3.9 million users, resulted in 3,000-plus reactions and cost Hayu less than $5 CPA.
These are examples of McDermott's new "Maximize/Optimize/Kill" strategy. Rather than follow the original approach of carefully selecting a few short clips and posting them only on the platform, the goal is to follow a faster approach and let the Internet decide what stays. The goal is to maximize the audience for a clip, optimize the particular social media outlets it is posted on and if it doesn't quickly drive views, shares and comments -- kill it, and replace it with another. That's a better promotional approach, according to McDermott, and leads more effectively to the stated objective of subscriber acquisition and retention.
In addition to using a number of social media outlets for promotion, Hayu has also followed a policy of partnerships for distribution. It has partnered with a range of different kinds of companies, including service providers. In fact, one of McDermott's first developmental efforts was to create an app specifically for Virgin Media's TiVo set-top boxes. He continues to support that policy, saying that both channels (direct and service provider) were growing swiftly.
Today, Hayu is available through UK retailer Primark, via in-store gift boxes; mobile operator EE; Go Media (a provider of digital entertainment n buses and trains); Sky (via its soon-to-be-launched Now TV Reality Pass service) and with Irish operator eir.
McDermott also announced at IBC that Hayu would be launching a new service in the Nordics in Q4 2017, with TV2 Sumo, a Norwegian streaming service. It's also launching a direct-to-consumer OTT service as well. The Norwegian launch will be followed by subsequent launches in Sweden, Finland and Denmark.
Hayu has global ambitions, McDermott said, but its ability to distribute is constrained by language. A key part of the value proposition is providing access to users on the same day as the shows are broadcast in the US. To ingest the shows and repackage and deliver them to different geographies adds some time -- about eight hours, according to McDermott. That time frame would increase exponentially if dubbing or subtitling were added to the process. So it has so far only targeted English-speaking countries or regions such as the Nordics, where English is widely spoken.
But McDermott is exploring the possibility of posting in English right away, and then adding subtitled versions later. He is also keeping an eye on developments in automated subtitling to see if that might be an option a little further down the line.
— Aditya Kishore, Practice Leader, Video Transformation, Telco Transformation