The mobile industry has experienced quite the shake-up in the last few years, as consumers have seemingly favored over-the-top provider (OTT) services to traditional messaging services. Additionally, there has been increasing competition from cloud-based "freemium" messaging solutions as well. But the truth is that SMS, MMS and IP messaging remain a major source of revenue for mobile operators. In fact, the messaging market is predicted to generate $112.9 billion in 2019 alone, according to a Juniper Research report.
However, in a bid to be more competitive and reduce total cost of ownership of hardware as it reaches end of life, CSPs are increasingly looking to evolve or replace infrastructure, urging them to make decisions on how best to support existing services, including New IP-based next-generation messaging.
As a result, within the last three years, communications service providers (CSPs) have taken a number of steps to start the move toward virtualizing their networks. Through the implementation of Network Function Virtualization (NFV), mobile operators reap the benefits to compete with both OTT and cloud-based messaging solutions. After all, NFV's architecture enables low-cost elastic scale, service agility and a reduction in both capex and opex, ultimately transforming CSPs into cloud operators themselves. By doing so, NFV strengthens CSPs as competitive players within the mobile market, enabling them to go on the offense with message service delivery against OTT providers -- a capability they have lacked for years.
In the first quarter of 2016, Xura Inc. and Heavy Reading carried out a detailed survey to assess the progress, market timing, business and technical drivers that CSPs are facing as they look to virtualize their network, with a particular focus on messaging services. The survey contained a total of 19 questions and was answered by over 70 qualified respondents in the CSP space. So what does the commitment to NFV entail? What are CSPs prioritizing in their race to virtualize their network? What are the biggest obstacles that CSPs need to consider?
The NFV commitment
CSPs are highly committed to virtualizing their networks. In fact, 70% of CSPs plan to virtualize some or all of their messaging platforms in the next four years. While the trends are fairly consistent across global regions, US respondents have a more aggressive timeline (within the next year), and other regions anticipate more activity in the upcoming two- to three-year timeframe.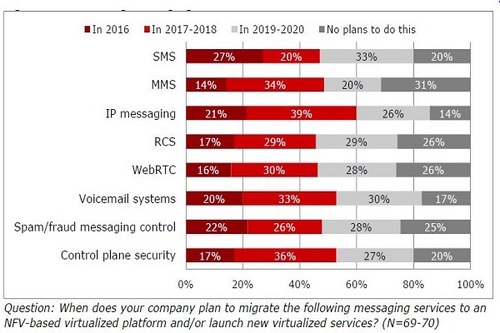 The priorities
For CSPs, there is some prioritization required when bringing new messaging systems online. Research found that the messaging services being prioritized for migration to an NFV-based virtualized platform in 2016 were SMS (27%), followed by spam and fraud messaging control (22%) and then IP messaging (21%).
These findings show us that CSPs are looking to virtualize the services that are most heavily used -- like SMS -- on the network first and then align the launch of new offerings that may not yet be provided, like IP-based messaging services such as rich communication services (RCS), with deployments in NFV. Not surprisingly, services like MMS -- ones which have probably taken the biggest hit from OTT applications, seem to be furthest down the priority list, with nearly a third (31%) of respondents saying they had no plans to virtualize this service as of yet.
The obstacles to NFV
Some of the biggest technical challenges to NFV were identified as product interworking, orchestration and migration complexity. Orchestration -- still relatively new for telecommunications deployment scenarios, in particular, seemingly presents a barrier because, while over half (55%) of respondents said they would like to utilize a single management and orchestration (MANO), they also conceded that this will be difficult to achieve. The concern here is that CSPs will be forced to deploy a number of vendor-specific VNF orchestrators, which adds both cost and complexity into any virtualization migration. Approximately 7% of respondents are planning to use a single MANO so they could very well set the standard for what's realistically achievable over the next few years.
Additionally, there is divergence in the industry as to a preferred orchestration framework. Over 40% of respondents indicated support for OpenStack -- using integrated in-house contractors such as Red Hat Inc. (NYSE: RHT), or telecom integrators like Hewlett Packard Enterprise -- yet so too did VMware Inc. (NYSE: VMW), meaning there's no clear consensus on a preferred framework.
It should be noted that, after some initial skepticism, OpenStack is gaining real credibility as a carrier grade framework in the marketplace. Given the continued demand for VMWare though and, to a lesser extent, Microsoft Azure (with 10% of mindshare from respondents), solutions need to be agnostic in their support for different orchestration and virtualization environments if they are to maximize the commercial opportunities available to providers.
CSPs also considered cultural challenges and business case definition as the top business implementation challenges that their organization faced. Part of the challenge when it comes to an organization's culture and the implementation of NFV boils down to the inevitable power struggle over who has responsibility for the service implementation and delivery. Will it be the network team, the value added services team or the IT department? Who manages the budget, the platform and the team that will have responsibility for running it on a day-to-day basis?
So why pay attention now?
We'll see a large number of systems launched this year, particularly in the US, where there is such a huge hardware footprint, and with older systems running the networks that are reaching end of life or could benefit from modernization. Understandably, the shift to virtualized messaging platforms will be gradual, as systems are tested, launched and inevitably tweaked for brand-new services. But ultimately, operators will turn their gaze to bigger platforms that will deliver the biggest operational and cost benefits in the long run, and paying attention to NFV now may help them to reap the rewards more than initially imagined.