Last month we asked you, the Telco Transformation community, to help us make 5G out of this world with a caption on a cartoon that we hoped wouldn't alienate anyone (get it?).
And, since it was all about 5G, we asked Light Reading Mobile Editor and resident 5G fanatic Dan Jones to be the judge. (See TT Caption Contest: It's All 5G to Me.)
Here are his top three picks:
In first place, taking home $150 to Amazon, is mhhf1ve, with: "Those aren't his ears -- they're MIMO antennas..."
In second place, with $75 to Prime Away, is okiedude111, with: "Hey Lowell, he says his name is NGPON2 and he comes in peace."
And last but not least, in third place, with $50 to blow online, is Joe Stanganelli, with: "Don't tell me you guys are out of spectrum, too!"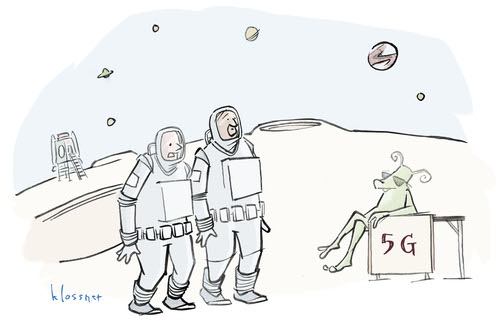 Thanks for playing, everyone, and may the 5G force be with you (in two to four year's time!).
— Sarah Thomas, Contributing Editor, Telco Transformation