It was total domination by Netflix in last week's Telco Transformation poll that asked voters to pick their favorite OTT service.
Netflix Inc. (Nasdaq: NFLX) nearly doubled up on the competition by garnering 46% of the votes cast. Tying for second place, with 16% of the votes, were Amazon Prime and service providers' in-house OTT services.
YouTube Inc. cruised across the finish line in fourth place with 12% while Hulu LLC was a distant fifth at 8%. Sling TV and programmers' OTT services didn't register any votes.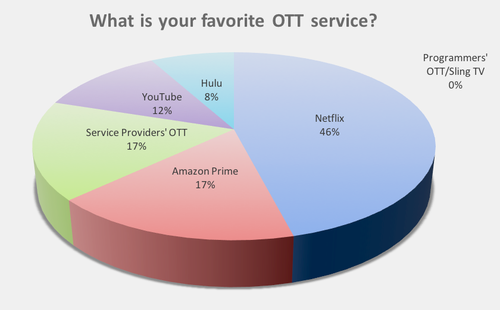 The poll results for Netflix weren't at all surprising. According to a recent survey by
Parks Associates
, Netflix is the commanding leader of OTT services in the US with 52% of the broadband households paying for its service at the end of last year. For Amazon Prime Video, 24% reported having a subscription during the same time frame while Hulu had 14%. (See
The OTT Maelstrom
.)
Further attesting to Netflix's dominance, in Morgan Stanley's Sixth Annual Streaming Media Survey, Netflix took over the top spot for original programming from Home Box Office Inc. (HBO) for the first time. (See Netflix Tops HBO for Best Original Content.)
In an attempt to win over Netflix customers, Amazon started offering its streaming video service as a standalone option last month while pricing it slightly less than Netflix's standard tier. (See Amazon Draws a Bead on Netflix With Standalone Tier.)
— Mike Robuck, Editor, Telco Transformation