Facebook and YouTube were seen as the big winners in the live-streaming domain, according to a recent Telco Transformation poll. However, many respondents also expressed skepticism about the long-term future of live streaming via social networks, questioning whether there was real value and consumer interest in this application.
Live streaming has gained importance as various social networks, particularly Facebook and Snapchat, have rolled out live-streaming apps that have gained both attention and views. Perhaps the most quoted example is that of the "Chewbacca Mom," a lady who purchased and then put on a Chewbacca mask, while broadcasting the process live on Facebook. This video has been seen by more 165 million people and continues to get views today. In case you missed it, you can see it here.
Facebook has emphasized repeatedly the importance that video and live streaming hold for the company, and Snapchat, with 158 million daily active users, is just about to go public largely based on its success with video "live stories." (See Social Video Could Be the Next Great Challenge for Network Operators, Facebook Targets the TV for Future Growth and YouTube Launches Live Streaming in 4K.)
And yet, many of our respondents were doubtful that it would be successful, with one saying "I can't imagine all the live feeds that don't get watched. The number must be really high," and another predicting that live streaming "will eventually die off once people get bored of it or there's not enough people watching the live video feed."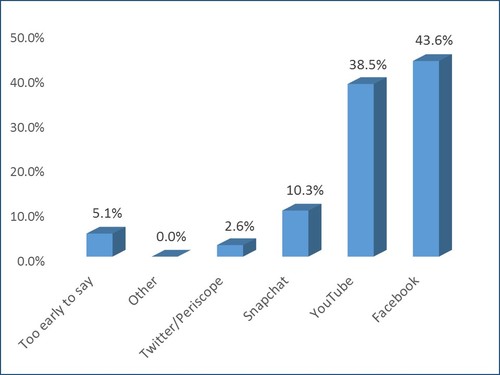 Amongst the companies listed, Facebook was seen as the most likely to be successful, selected by just under 44% of respondents. Still, YouTube Inc. seems to have established itself as being almost synonymous with video, particularly user-generated videos. It was not too far behind with 39% of respondents picking it.
As one of our respondents put it, "I've definitely seen more live videos on my Facebook feed. It's not really my thing, but a lot of people are into it. [But] Youtube is my number one go-to when it comes to looking up videos and things like that.
And another had a similar response, saying "Facebook Live has certainly been the talk of the town since it was introduced, and people have really taken to it -- but YouTube still dominates for now, IMHO."
It was clear that despite its usage numbers and recent growth, Snapchat, with just over 10% of respondents selecting it, still has some way to go in terms of brand recognition across a broader audience.
— Aditya Kishore, Practice Leader, Video Transformation, Telco Transformation