Is the concept of 5G alien to you? Has the wireless operators' egregious marketing of it made you feel like you're in outer space? Do you think the 5G reality is really lightyears away?
Since the war of words between the wireless operators can often be comical, we're capturing 5G in a comic this month. But, it's up to you to caption it for us. Write in your suggestions for the cartoon below. This month our winning captions will be ones that drop some 5G knowledge and play homage to the hype versus the reality of it. (Bonus points if you're funny... or punny!)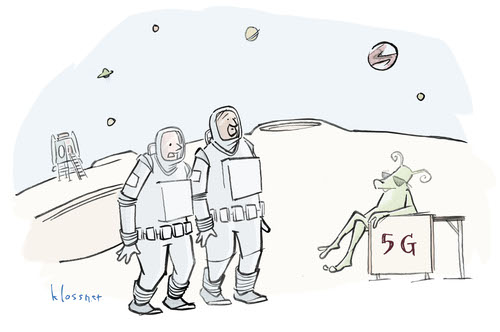 We're feeling generous in the new year, so the first place winner will get a $150 Amazon gift card; second place will get a $75 Amazon gift card; and $50 for Amazon spending goes to third place. Registered users can enter as many times as they want in the contest. The contest ends at midnight ET on February 5, and the winners will be announced the following week. Good luck!
*Terms and conditions apply. (See PROMOTIONAL TERMS FOR DECEMBER TELCO TRANSFORMATION CAPTION CONTEST.)
— Sarah Thomas, Contributing Editor, Telco Transformation