When it comes to large-scale deployments of 5G, South Korea will lead the way, according to those who voted in a recent Telco Transformation poll. It's a sentiment shared by most industry pundits as well.
This year has already seen a number of announcements around 5G. Wireless operators and their vendor partners across the globe are ramping up testing and launching prototype markets, but it will still be a while before commercial networks are ready to go, let alone large-scale ones. (See 5G Is Official: First 3GPP Specs Approved.)
Amongst our poll takers, half thought South Korea would lead the way. The US just barely beat out China for second place with 16% and 14% of votes, respectively. Japan, Turkey and Sweden each captured less than 10% of the remaining votes. Here's a look at how the poll shook out, minus the 2% of you who voted for an "other" country.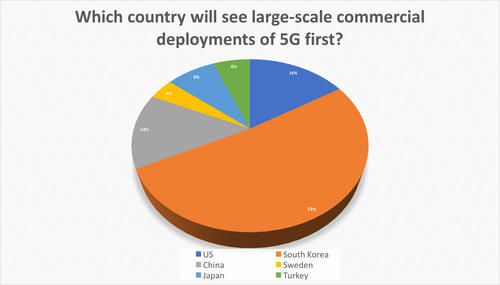 South Korean wireless operators SK Telecom, KT and LG U+, alongside the local Ministry of Science and ICT, are expected to invest more than $9.36 billion in 5G technologies this year alone, according to recent reports in the South Korean press as reported by RCR Wireless. Their goal is to start commercial operations in 2019 and build out nationwide infrastructure by 2020. According to sources, the South Korean government estimates that 5G will have a penetration rate of nearly 5% in South Korea in 2020, but we'll get the first glimpses of SK Telecom and KT's 5G networks at the 2018 Pyeongchang Winter Olympic Games. (See SKT Forms 5G Task Force in Race to Launch Services – Report.)
Meanwhile, in the US, the wireless operators are starting to really talk up their plans for 5G. T-Mobile has vowed to be first to a nationwide LTE network by 2020. Verizon says it will launch three to five commercial 5G markets towards the end of the year with plans to amp up its rollout in 2019. AT&T claims it will launch mobile 5G in 12 markets by late 2018, and Sprint hasn't committed to a timeline but says its initial 5G focus will be purely on mobile broadband. (See 5G in the US Heats Up – Sort Of.)
China could also easily breeze past the US in 5G deployments -- or will at least quickly become the leader in total subscribers. According to CCS Insight's 5G forecast, China will account for more than half of all 5G subscribers by 2022 and represent more than four in 10 5G connections globally by 2025.
Europe shouldn't be ignored when it comes to 5G either, although it will likely lag Asia and the US. Orange in France and Deutsche Telekom in Germany, as two examples, are both working towards 5G launches this year. (See Orange Capex to Peak at €7.4B in 2018 and DT Is Not Going Radio Gaga About 5G.)
CCS Insight predicts there will be one billion 5G connections worldwide by mid-2023, a faster trajectory than 4G took.
One thing is clear -- the global race is on!
— Sarah Thomas, Contributing Editor, Telco Transformation