Augmented reality (AR) and virtual reality (VR) get a lot more exciting when they run on 5G with its faster speeds and lower latency. That could be one reason why investment in AR/VR startups has been accelerating in the past year, and especially the past three months, ahead of 5G launches.
AR/VR startups have raised over $3.6 billion from venture capitalists and corporate investors in the last year, and over three quarters of a billion dollars was invested in the first three months of 2018, according to a new report from Digi-Capital.
Five huge deals took the bulk of the money in the past year -- MagicLeap over several rounds, Improbable, Niantic and Unity, the advisory firm notes. And, money raised has also shifted from VR to AR. The firm, which advises AR/VR startups, didn't discuss 5G specifically, but attributed the increase in funding to the early-stage dynamics of mobile AR. It says that AR/VR tech took one third of investment dollars, followed by smart-glasses at one third, and that AR/VR games, navigation, medical, social, photo/video and peripherals were also big cash raisers.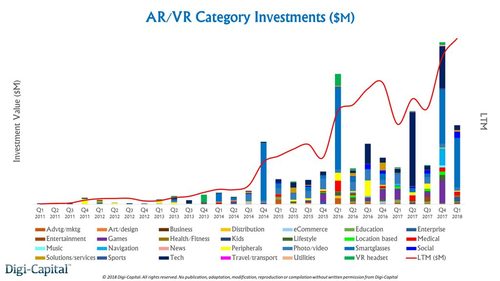 Digi-Capital notes that Mobile AR is very early stage today, but could see $50 to $100 million exits in the next 18 to 24 months. It believes dominant companies will take time to emerge as it will also take time for mobile AR developers to learn what work and what consumers and enterprises want.
---
Want to learn about the state of VR video, technology opportunities and challenges? Register today for Light Reading's The Reality of VR Video Breakfast at the NAB Show on April 9 in Las Vegas. We will explore the technology's opportunities and challenges and chart a path forward. The event is FREE for all NAB attendees -- don't miss out!
---
"Early-stage AR/VR fundraising transformed in the last 12 months, and should continue to evolve with the market," the advisory firm wrote in a release on the report. "While it could take time for breakout apps to emerge, potential AR/VR winners and the underlying platforms supporting them continue to raise solid rounds in Sand Hill Road and China. While nobody knows exactly what that future will look like, sometimes we recognize it when it walks through the door."
— Sarah Thomas, Contributing Editor, Telco Transformation