Artificial intelligence, the Internet of Things and chatbots could be poised for prime time in 2017, according to Telenor Research.
Earlier this month, Telenor Group (Nasdaq: TELN) released its tech trends for the year, which, in addition to IoT, AI and chatbots, also included the possibility of social media burn out and numerous 5G trials ahead of the actual specification being completed.
"Last year we highlighted several important developing trends and predicted that these would gain speed and attention during the year," said Bjørn Taale Sandberg, head of Telenor Research, in a prepared statement. "IoT is on our list again for 2017, but we also claim that social media fatigue could be starting to appear, that chatbots are hot, that 5G will show itself in demos and pilot installations long before the standard is ready, and that the ethics of AI will be a hot topic."
Sandberg spoke about AI, IoT and 5G during a Telco Transformation radio show last year. (See Food for Thought With Telenor's Sandberg and Telenor Sets Sail on Its Digital Journey.)
"These trends will offer some very exciting technology developments in 2017," Sandberg said. "We'll experience crucial progress within areas such as AI, IoT and 5G, and in other areas, a possible change in direction as millennials may begin experiencing social media fatigue.
"And, he added, "underlying all of this should be the awareness of ethical and regulatory considerations, which will be evermore crucial in how we can experiment with -- and apply these new technologies in our increasingly digital lives."
Check out the full version of the report here.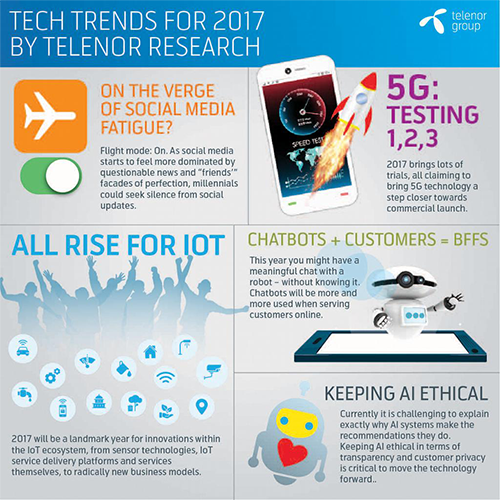 — Mike Robuck, Editor, Telco Transformation